MMA World Reacts as Taco Bell Guys Slams Furious Customer in Wild Scuffle
Published 01/30/2023, 4:00 PM EST

Follow Us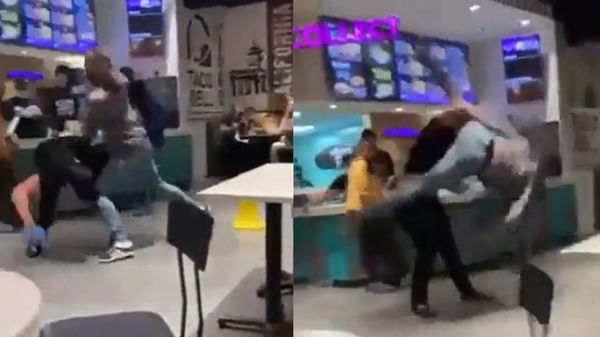 There have been a lot of incidents regarding customers being rude to restaurant staff that went viral on social media. Sometimes they argue with the workers, and sometimes the scuffle ends up getting physical. However, an old video recently resurfaced online involving a customer getting slammed by a worker at a Taco bell joint, which looked like a MMA move.
The incident in question took place at the Taco Bell branch in Swansea, Wales. A customer was seen as being very aggressive and charged toward one of the restaurant's worker. Another man who accompanied the aggressive customer was trying to calm him down. But the angry customer ran toward the Taco Bell staff member in an attempt to punch him.
ADVERTISEMENT
Article continues below this ad
However, the employee was able to anticipate the attack as soon as the man swung his hands. He picked up the customer and slammed him onto the floor like a UFC move. It was a horrific scene as the customer remained motionless on the floor. It shocked onlookers to see the man lying unconscious as blood started streaming from his head. The unconscious man was later attended to by the Welsh Ambulance Service.
Twitter users react to the Taco Bell worker's MMA move on the customer
'Fight Haven' posted a video of this incident on Twitter and captioned: any users on Twitter: "Justified? or Attempted Murder? A Taco Bell employee sends an out-of-control customer to the Intensive Care Unit." Many people have shared their thoughts on this unfortunate event.
Here are some of the reactions from Twitter users:
Looks like self defense to me, the man swung at him

— Peabo J™ (@peabojmusic1) January 29, 2023
Hard to know without more context, but with just this video to go off of… this is the most clear self defense case one could possibly make.

— T.J. Moe (@TJMoe28) January 30, 2023
This 100% qualifies as SELF DEFENSE. A

Textbook.

— karan (@K_Dreamz_) January 30, 2023
Many Twitter users claim that the customer was in the wrong. They believe that without more context to the video; it seems like the staff member was trying to defend himself.
Why do people in fights pick up and slam their opponents? I've never understood that . That's just risking to commit manslaughter all over a misunderstanding

— John Rodriguez (@jrod760) January 29, 2023
If this isn't self defense… I don't know what is.

— Dakota Laden (@DakotaLaden) January 30, 2023
The second the guy intended contact with the employee – the law says that's assault. When he made physical contact that's battery. Defending yourself from assault is allowed, especially since the video makes clear the customer fully intended to pursue and harm the employee.

— Dan Houser (@DipswitchDan) January 29, 2023
ADVERTISEMENT
Article continues below this ad
Some people believe that it isn't wrong to defend ourselves if somebody tries to aggress toward us. They claim that the customer was clearly in the wrong. A Twitter user also mentioned how engaging in fights to address a misunderstanding only causes more problems.
ADVERTISEMENT
Article continues below this ad
MMA fans across the globe were surely delighted to watch this wild takedown by a Taco Bell employee. They will not be missing the thrill of combat any time soon. The UFC will return with a power-packed fight card at UFC 284 with the lightweight title up for grabs. The much-awaited clash between Alexander Volkanovski and Islam Makhachev could surely be a match-of-the-year contender.
WATCH THIS STORY: Khabib Nurmagomedov thug Life Moments