"Most of the Fighters Want an LOA" Dana White Gives More Answers on Fighter Pay
Published 10/06/2021, 9:33 AM EDT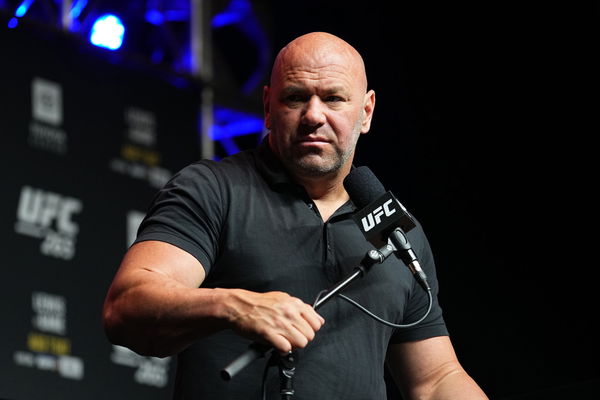 ---
---
Dana White is a mastermind of a businessman. He is the UFC's current president, and he manages the whole promotion. Under White's guidance, the UFC has evolved into a multibillion-dollar worldwide company as well as into the world's greatest MMA promotion. White has complete authority over the organization. He decides on the fights, and he's involved in the financial matters, the compensation, and everything in between.
ADVERTISEMENT
Article continues below this ad
There have been several talks in the past with Dana and the press about the contentious issue of fighter pay. And Dana White has never been afraid to speak his mind. He has been running the UFC for years and has certainly given a few individuals a good earful for being accused of underpaying his fighters.
Needless to say, the fighter pay issue has been haunting the UFC and Dana White for a long time.
ADVERTISEMENT
Article continues below this ad
Earlier this week Dana White sat down for a press conference following his Dana White's Contender Series event. He discussed a variety of topics, such as the performance of the contenders, fighter pay, health risks, and more. Dana was once again questioned about UFC's fighter pay.
ADVERTISEMENT
Article continues below this ad
Dana White on Fighters disclosing their payout
Watch This Story
In the press conference, White revealed what he thinks about fighters disclosing details about their fight payouts to the public. When asked what he thought about fighters disclosing their wages to the media, Dana said, "I told you the fighter pay thing. It doesn't matter to me. If These guys wanna let you know what they make." I mean, you guys asked Holland, and what did he say? He said people were hitting him up for money after I said it. Just that's it. Most of these guys want what's called an LOA. Where you don't get to see the money."
ADVERTISEMENT
Article continues below this ad
Conor McGregor once tweeted his 1.5 million dollar pay-per-view contract. The interviewer mentioned this to Dana and asked him if he was okay with people posting their buy rates or if he wants it to be confidential. To this Dana said, "I don't give a s**t anymore. I mean listen, you guys all know Conor McGregor is making f**** truckloads of money, and he is doing well. Most of the pay-per-views that come out is, you know, close. Or in the ballpark of what they are. So no real big secrets out there."
The issue of fighter payment has been going on with Dana for quite some time and is far from over. White has always done things his way in the UFC, no matter what the media or others say about him. Having built the organization into what it is today, he is unconcerned about how others perceive his methods of working.