'My Kidneys Are F***ed up' – Bobby Green Shares Horrific Details About His Backstage Collapse
Published 02/13/2021, 1:25 PM EST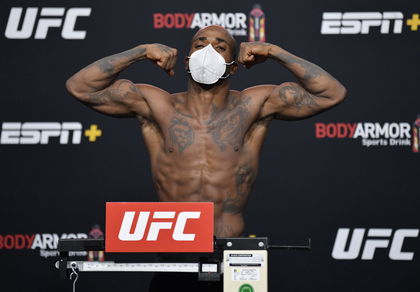 ---
---
Bobby Green had a scare after making weight at UFC 258 yesterday. Green hit the scales for his scheduled fight with Jim Miller. However, trouble ensued when he collapsed backstage. The medical troubles were severe enough for the UFC to remove the entire fight from the card. Thereafter, Green shared his situation with his fans, describing the trouble with his kidneys.
ADVERTISEMENT
Article continues below this ad
Green took to Instagram Live and detailed what exactly went down after he had made weight. During a press conference following the faceoffs, Dana White provided an update about Green's situation and revealed that the doctors were attending to him.
ADVERTISEMENT
Article continues below this ad
"I ended up going down the weight cut. Do my thing. Weigh-in and then go see the doctors. I'm not gonna lie, I normally pull that s**t together, but this time I couldn't pull it together. I was trying to just get to the stage with Jim and get past that. Then maybe I can go home, get in bed, and things will change out or I'll feel better. But I just couldn't get off the goddamn chair," Green said (video via @AquaMMA_ on Twitter).
Bobby Green competed four times in the UFC in 2020
Green is a UFC veteran who was on cue to make his 16th walk to the UFC Octagon. In his last fight, the 34-year-old suffered a unanimous decision loss at the hands of Thiago Mosses. Prior to that, Green had won three straight, all of which came via unanimous decision.
A UFC veteran, Green has been around the fight game for over 13 years. For someone of his experience, Green knew that something wasn't right after his backstage collapse.
ADVERTISEMENT
Article continues below this ad
" I just fell down to the ground and was sitting there and everybody was like call somebody, call somebody. Blah blah blah whatever happens, so I think I just fucked up the water loading thing. They say my kidneys are f**ked up right now. I guess the average fighter's kidneys go… something, some sh*t they were saying like 1.7. I'm at 3.5," Green added.
As of now, there have been no further updates regarding Green's health status. However, the fans and people in his camp would wish for a speedy recovery for the lightweight.
ADVERTISEMENT
Article continues below this ad