'Never Gonna Stop Talking'- Kevin Holland Releases a Statement After UFC Fight Night Loss
Published 03/21/2021, 1:45 PM EDT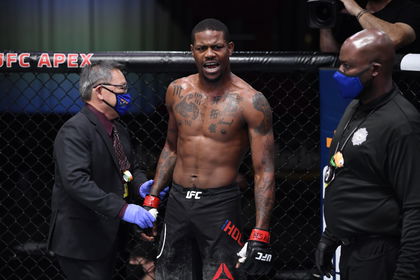 ---
---
Kevin Holland issued a statement after his main event loss at UFC Fight Night. Holland said, "Oh f*** we're a little beat up but never gonna stop talking. If you guys don't f***ing like it, deuces".
ADVERTISEMENT
Article continues below this ad
This was said after many people were left unimpressed with what Holland was doing in the fight. Holland talked a lot of trash before the fight. 'The Trailblazer' never stopped and continuously flamed and mocked Derek Brunson up until the last round.
Even when the rounds were ending, he was busy talking with himself and his teammates. Whatever he said was not perfectly technical in accordance with the fight.
ADVERTISEMENT
Article continues below this ad
Rashad Evans frustrated with Holland's performance
Many experts questioned his approach as it looked unclear what Holland was looking to achieve with all the talking. UFC Hall of Famer Rashad Evans is one of them. Evans was very critical of Holland's performance in the octagon.
Evans told, "Well I was frustrated watching him come out I felt like he was just doing a little too much like a little extra I mean listen, Kevin, is very entertaining and he likes to bring the energy which I like is very entertaining but at the same time you can't forget what we're out here to do"
He also wanted Holland to flip the switch. He admits that it's difficult to fight with the same intensity and urgency if you don't flip that hypothetical switch. Evans felt Kevin Holland talked a lot of trash, but failed to walk the walk.
The way back for Kevin Holland
Trash talking helps a lot of fighters to gain clout amongst the fans. As unethical as it seems, it also helps sell the paper view, ultimately attracting money.
It has helped Holland so far as he was on a meteoric rise and was looking on the road to a title shot. However, a devastating loss at the hands of Brunson seems to have knocked him off of his trajectory; at least until he puts forth a solid comeback.
ADVERTISEMENT
Article continues below this ad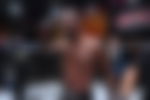 There are many great fighters who are good with trash-talking on the mic like Conor McGregor, Colby Covington, and more. 'Trailblazer' could certainly fit in this list. In order to do that he has to back his trash talk and needs to beat fighters who are sitting at the Top 5 spots.
For now, Kevin Holland remains stubborn and looks unwilling to accept anyone's advice. Does trash-talking help fighters, or is it just another fantasy?
ADVERTISEMENT
Article continues below this ad