"Never Seen So Much Joy": Fans React to Alex Pereira Looking Unfazed While Riding a Rollercoaster
Published 01/17/2023, 1:45 PM EST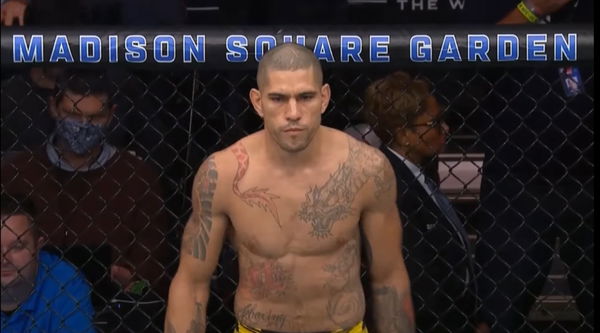 Alex Pereira has been on a high since beating Israel Adesanya to win the UFC middleweight championship. He has been on a well-deserved break ever since that fight. Recently, he was seen enjoying a rollercoaster ride which fans have reacted to on social media. 'Poatan' seemed very relaxed and unfazed during the rollercoaster ride.
After an impressive showing against 'The Last Stylebender' at UFC 281, Alex Pereira took a significant time away from the Octagon. The Brazilian fighter who boasts a UFC record of 7 wins and 1 loss even took the championship belt to his native tribe, the Pataxó tribe. They belong to the Bahia region of Brazil, with an estimated population of 11,800 people.
ADVERTISEMENT
Article continues below this ad
Over the past three bouts, Alex Pereira has dominated Israel Adesanya in two combat sports disciplines. There was always a lot of hype for 'Poatan' before even fighting for the UFC. It is safe to say that the Brazilian had a great 2022.
Fans react to Alex Pereira being unfazed in a rollercoaster ride
Alex Pereira was recently seen riding a rollercoaster in a video posted on social media. Generally, rollercoasters are known to be very terrifying. But 'Poatan' didn't seem to care too much about the ride and looked rather unfazed. Many fans reacted to the video and made some hilarious remarks about the situation.
ADVERTISEMENT
Article continues below this ad
Here are some of the reactions from users on Reddit:
Wow. Never seen so much joy on his face
I feel like at this point man knows he's a meme and is embracing it
Dude actually double dropped some pills before the ride to get this happy.
i can almost see a glint of a smile on his lips…
It's like he is reliving his Title win all over again.. Melts your heart.
He was trying really hard not to smile, lol
I don't know what it is about this man, but all these moments of him just crack me up like nothing else
Many fans made jokes about the fact that Pereira has embraced his social media persona as a meme. While others noticed the fact that the Brazilian fighter was trying hard not to smile. Some Reddit users even jokingly claimed that 'Poatan' was reliving his win over Israel Adesanya.
ADVERTISEMENT
Article continues below this ad
Although there have been a lot of speculations as to whom 'Poatan' will fight next. But much might agree upon the lack of credible contenders in the division. Whom do you want to see Alex Pereira fight next? Drop your comments below.
Edited By: Vineet Nandwana