No Return for Nick Diaz – Dana White Isn't Sold on the Possibility of Diaz's UFC Return
Published 01/01/2021, 3:42 PM EST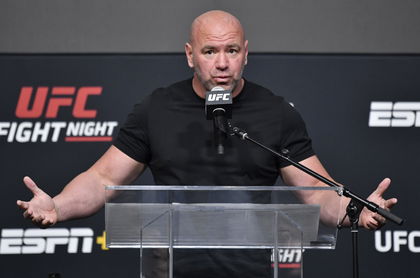 ---
---
Despite never competing inside the UFC octagon for almost six years, the possibility of a return for Nick Diaz still generates a buzz among the fans. The fighter from Stockton boasts of a cult following who is still waiting for him to come back. However, for all such fans, Dana White doesn't have good news. The UFC President doesn't think Nick Diaz will return in 2021.
ADVERTISEMENT
Article continues below this ad
While talking to The Schmo, White didn't seem sold at all on the possibility of a return for the elder Diaz brother. White argued that the sport of MMA is highly demanding.
Therefore, anyone who wishes to compete at the highest level must exhibit a sense of readiness towards training. As far as White can see, Diaz isn't checking the requisite boxes.
ADVERTISEMENT
Article continues below this ad
"Everything that I see from Nick Diaz doesn't look like Nick Diaz wants to or is ready to compete in this sport. Even like Jon Jones, as good as Jon Jones is, you have to be 100 percent mentally, physically, and emotionally ready to train, be ready for this, and fight. I don't think anyone should want to see Nick Diaz fight," White said.
Dana White praises Nick Diaz for all he has achieved in his career
Nick Diaz is one of the best fighters to have never won UFC gold. His run in Strikeforce was as good as anything that the fans had seen during that era. However, he has faced his share of controversies as well.
When White looks back at the career of the 37-year-old, he sees a successful fighter who has done what most couldn't. Hence, he doesn't see a valid argument for him to return.
ADVERTISEMENT
Article continues below this ad
"Nick Diaz has been in a lot of wars, he's accomplished a lot of great things in his career, he's made a lot of money, he's obviously super-famous. He's gotten everything you could hope to get out of fighting. I just don't know why, when I see his Instagram, why he would come back," White added.
Earlier this year, Nick Diaz's manager claimed that there was a "99.99999 percent" chance that Diaz will return in 2021. While White doesn't seem to be sold on the same, it is unlikely that he doesn't give Diaz the chance to return if the former so chooses. Despite his inactivity, Diaz still has the power to draw in the fans, just like his younger brother.
ADVERTISEMENT
Article continues below this ad