'Nobody Knows That Mother F***er'- Jorge Masvidal Makes Fun of Leon Edwards
Published 04/08/2021, 5:30 AM EDT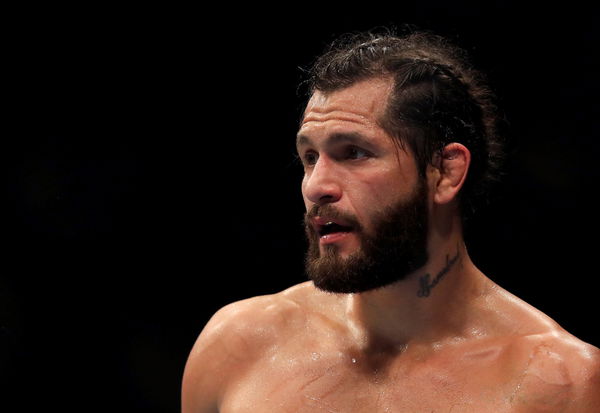 ---
---
As UFC 261 in Florida is closer than ever, the return of fans to UFC arenas is imminent. UFC 248 in March 2020 was the last event where the promotion conducted fights before a packed arena. Soon after, the pandemic took over, and the UFC held events behind closed doors for a long period.
ADVERTISEMENT
Article continues below this ad
The PPV's main event will see Jorge Masvidal battle Kamaru Usman for the latter's welterweight championship. In an interview with Ariel Helwani from ESPN MMA 'Gamebred' was asked about the potential massive fights that are on the horizon if he beats 'The Nigerian Nightmare'.
Helwani said, "There's the trilogy of course, which will make a lot of sense right there's the Colby fight."
ADVERTISEMENT
Article continues below this ad
As soon as the BMF heard Covington's name, he replied, "Colby doesn't draw, so it's not a massive fight. It's more like I want to f*** you up so, therefore, thus, I'm gonna f*** you up, but it's not a massive fight. Let's not lie."
'Gamebred' opined Colby Covington is not a big fight as he thinks nobody likes to see him compete. He expressed the same feeling for Edwards. Jorge Masvidal said, "Maybe like Leon Edwards was a massive that's not a massive fight nobody knows that mother f**** you know I go to his hometown and they are asking me for pictures don't nobody know them. Me and Nate Diaz is a massive fight, you know."
Jorge Masvidal looks to baptize them all
Though Masvidal looked uninterested in fighting both 'Chaos' and 'Rocky', his eyes glowed up while talking about Nate Diaz. He fought Diaz for the BMF title fight at UFC 244 and dominated for three straight rounds before earning a doctor stoppage win.
Both men feel like they have some unfinished business between them and don't want the rivalry to end the way it did. Masvidal also opened the door for a potential trilogy fight against Kamaru Usman "when" he wins the rematch in April.
ADVERTISEMENT
Article continues below this ad
The BMF champion is looking to fight all of them and at some point. He said, "I foresee that as long as they win they do whatever after I get the belt that I baptize them all. That I end them, I leave them unconscious in a pool of blood and very, very hurt. Not one of those three guys is going to get nothing off on me."
Jorge Masvidal seems very confident about his chances against every opponent. First, he will look to dethrone Kamaru Usman, following which he can dictate things at 170 pounds.
If Masvidal wins the rematch, who do you think he will baptize next?
ADVERTISEMENT
Article continues below this ad