Numbers Prove Why Georges St-Pierre Is Still Way Ahead of Kamaru Usman in Welterweight GOAT Debate
Published 02/15/2021, 2:04 PM EST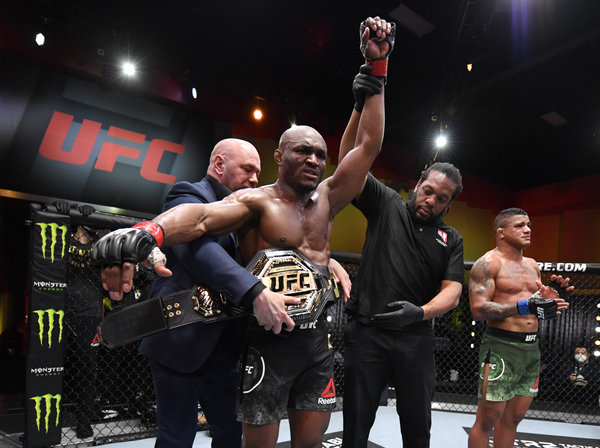 ---
---
With his win over Gilbert Burns at UFC 258, fans were quick to wonder if Kamaru Usman is inching towards dethroning Georges St-Pierre as the welterweight GOAT. However, while Usman is the current kingpin, he still has a long way to go as far as achieving the same status as GSP is concerned. Even the numbers tilt in the favor of the Canadian in this debate.
ADVERTISEMENT
Article continues below this ad
With three title defenses in the bag, Usman is yet to lose in the UFC. His win streak of thirteen fights eclipsed that of former champion Georges St-Pierre who had won twelve straight.
However, not all win streaks are the same. The share of title fights in GSP's streak dwarfs those of Usman.
ADVERTISEMENT
Article continues below this ad
Through their first thirteen fights, Usman boasts of a perfect record. Throughout this span, GSP lost two fights, coming against Matt Hughes and Matt Serra.
However, GSP has the higher significant strike differential per minute at +3.07 compared to Usman's +2.33. Similarly, St-Pierre streaks ahead in takedown accuracy with 80% as compared to Usman's 47%, and in control rate with 55% to Usman's 53% (via @NumbersMMA on Twitter).
Kamaru Usman has a better share of control positions during the grappling time
Usman has sustained his position at the top of the welterweight division over the past couple of years with his mix of striking and grappling. Usman's wrestling pedigree makes him a perennial threat on the ground. In grappling exchanges, the Nigerian's numbers stand only behind his lightweight counterpart, Khabib Nurmagomedov.
ADVERTISEMENT
Article continues below this ad
Out of the 223 fighters who have spent at least 1-hour grappling, Usman's control position share of 97.36% is second only to Nurmagomedov's 97.36%. While this stat reflects Usman's wrestling prowess, he hasn't had to resolve to grapple a lot in his three title defenses.
There can be several other layers of advanced MMA stats, which would tell their side of the story about how Usman is on track to challenge GSP in the future. However, the fact remains that 'The Nigerian Nightmare' still has miles to go before he catches St-Pierre.
ADVERTISEMENT
Article continues below this ad
What his past performances have shown us is that Usman has the mental toughness to maintain his position atop the welterweight food chain.
From fighting an opponent who signed up six days ago to engaging in a slugfest with Colby Covington to overcoming adversity against Burns, Usman has checked all the boxes. It will be his longevity that decides where he will end up on the all-time ladder.