"Pay All Those Fighters More Money Than I Am"- Dana White Furious About Recent UFC Pay Comments
Published 09/07/2021, 12:48 PM EDT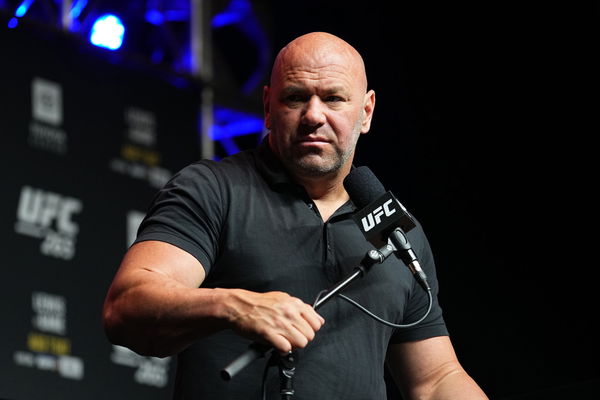 ---
---
The UFC is amongst the fastest-growing combat sports platforms in the world. With each passing year, the UFC has gone to the next level and has become more popular across the world. One of the main reasons behind the UFC's incredible success over the last 20 years is Dana White.
ADVERTISEMENT
Article continues below this ad
White is the UFC President and is the driving force behind the company's success. However, whenever a company is present in the public eye and deals with a lot of individuals, there are bound to be some who criticize its workings.
Throughout the last few years, there has often been much talk about fighters' pay and how people think the UFC does not pay its fighters the money they deserve.
ADVERTISEMENT
Article continues below this ad
Recently, during an interview with Tough Business, they asked White about the same. White said, "The thing is with the fight business; the fight business is a game where everybody wants more money, everybody wants to get paid more, it's never gonna end. At the end of the day, what we're talking about is we're running a business."
Watch This Story: 5 Facts You Need to Know About Evander Holyfield vs. Vitor Belfort Event
"And there's a reason we've been as successful as we have been. You know how much money we reinvest in the sport, to make the sport bigger and better for everybody. Which is what boxing has never done, and that's one of the million things where they fu*ked up."
Last year, almost every business was affected by the Covid-19 pandemic and many companies went through some very tough times. However, the UFC not only sustained itself but became even more popular during this time. Therefore, one cannot doubt the business acumen of Dana White and what he says when he means he has given back to the sport.
Dana White says no one can pay the fighters more money than the UFC and run a successful business
There are plenty of people who often criticize White about fighters' pay. However, White unabashedly talked about how he does not take them seriously and challenged them to run a successful business like him.
He said, "Listen, at the end of the day, when you run a business, it's about knowing who you are and what you've done for people that other people don't know about. So none of that sh*t matter, that's why I don't ever defend when people try to take about."
ADVERTISEMENT
Article continues below this ad
"You know, fighter pay and sh*t, you never see me coming out and go. We did this. Just shut the fu*k up. You have no idea what you're talking about, you guys know nothing about the business and if you do, if you're that fu*king smart and you think you have all the answers, go out there and compete with me."
"Pay all those fighters more money than I'm paying them and you build your own fu*king business. We'll see how that works."
ADVERTISEMENT
Article continues below this ad
Do you agree with Dana White? Let us know in the comments.