PED Commentator, Who Uncovered Liver King Steroid News, Receives Credit From Joe Rogan – "He's Just F***ing Super Smart"
Published 12/01/2022, 3:45 PM EST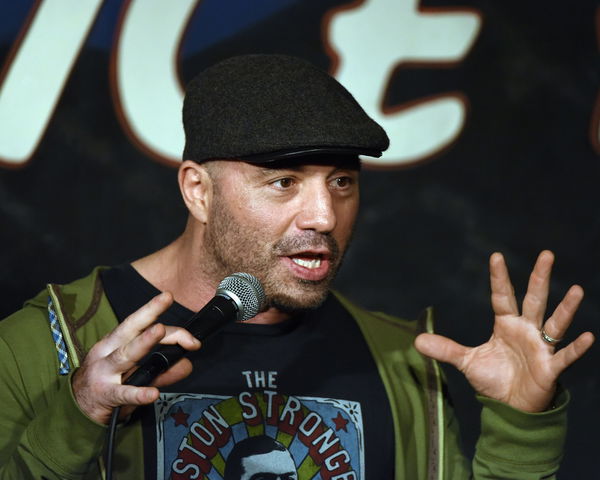 Derek from 'More Plates More Dates' has gained enormous notoriety since the huge 'Liver King' reveal. He was already well-known among fitness enthusiasts. However, since his Liver King video went viral, he has gained greater recognition and acclaim. The latest in line to praise the PED Guru is the UFC commentator, Joe Rogan. The 55-year-old definitely knows a thing or two about health and fitness. Additionally, the UFC commentator has expressed appreciation for Derek's latest video on Brian Johnson a.k.a the Liver King.
Despite the UFC commentator's own depth of expertise, Derek still managed to impress Rogan.
ADVERTISEMENT
Article continues below this ad
Joe Rogan applauds Derek of More Plates More Dates
Joe Rogan himself holds a fair share of knowledge when it comes to anything related to fitness, nutrition, and supplementation. However, supplementation is a conundrum in itself. And the fitness enthusiast from 'More Plates More Dates' has absolutely blown away the UFC commentator with his knowledge of the subject.
Kurt Metzger was with Rogan on the most recent JRE episode. Both went on talking about supplementations and prescription medications, and they mentioned Derek. Considering the amount of knowledge Derek has, Metzger got confused about his profession. "Who's he? Like a chemical engineer?" he asked.
Joe Rogan responded to Metzer by giving a little insight. "No, man. He's just f*****g super-smart and reads research… I thought he was a chemist." Rogan continued by discussing those who have a reputation for being 'know-it-all' fitness experts. He added in jest, "I know a lot of people that know a lot of sh*t about when you eat for the maximum amount of the absorption. The protein, how many grams per pound of body weight you have to take…"
Adding to Rogan's statement, Kurt Metzger further said, "That kid, with that flagellin, that's amazing… like weightlifter knowledge of nootropics." To which Rogan replied, "That's his body. His body is his mind. His body is just carrying his mind around." Coming from someone like Joe Rogan, that's a pretty big compliment.
Derek has made claims about UFC fighters too
ADVERTISEMENT
Article continues below this ad
On his channel, 'More Plates More Dates', Derek provides analysis and insights into fitness-related topics. He often deconstructs the science behind celebrity fitness and their physiques. Derek has made many videos on some of the biggest Hollywood stars as well as athletes and has made some really bold claims. This includes the UFC stars like Conor McGregor and Kamaru Usman, too.
McGregor never responded to any claims. However, Usman certainly did. 'The Nigerian Nightmare' was quick enough to call out Derek on the JRE for his accusations. And the latter made on that as well, further explaining his previous claims. His interpretations are quite intriguing, considering the way he pans out details in his videos. His latest video on exposing 'Liver King' has crossed 2 million views in just 2 days of its release.
ADVERTISEMENT
Article continues below this ad
Watch this story: UFC World Reacts To Liver King's Steroid Reports
Derek has left Joe Rogan impressed, and that, in itself, is one big achievement.
Edited By: Vineet Nandwana