"People Had Messed With the Scale": UFC Commentator Joe Rogan Praises Charles Oliveira After UFC 274 Shenanigans
Published 05/18/2022, 3:08 AM EDT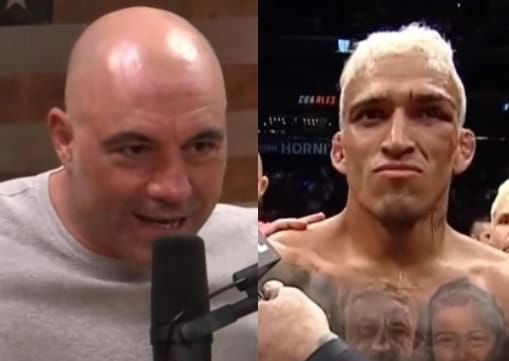 UFC 274 turned out to be an unfortunate event for Charles Oliveira. While he won the fight against Justin Gaethje, Oliveira sadly lost his lightweight title, as he was half a pound over the championship fight weight limit. However, Joe Rogan has some good things to say about the Brazilian.
Many started talking about how the hotel scales were messed up before the UFC 274 weigh-ins. This led fighters to believe they were lighter than they actually were. However, as reported by 'MMA Fighting', Oliveira did not let the confusion get to him.
ADVERTISEMENT
Article continues below this ad
Rogan spoke about how many fighters starve themselves to fit into a weight class. However, he feels many of them become great after they move up a weight division. That's when Rogan used former featherweight fighter Charles Oliveira as an example. 'Do Bronx' had missed the 145 lbs mark a few times.
However, upon switching to the lightweight division, 'Do Bronx' has been shining. Rogan said in JRE episode #1819, "Like, Charles Oliveira is a great example that, like he fought for 145 at a while, for a while rather. And he fought very well but never really hit the strides that he hit when he went up to 155. Oh my god, he's so good."
Rogan, commenting on what happened with the hotel scales, said, "He got screwed his last fight. There were some shenanigans with the scale. Some people had messed with the scale."
Joe Rogan explains problems with the scales
Rogan additionally described the issue that foreign fighters face with digital scales. He said, "Here's a problem with these digital scales. Foreign fighters, they use kilograms and in America, obviously, we use pounds, right?"
ADVERTISEMENT
Article continues below this ad
"And so the foreign fighters were like, these scales are calibrated and then the foreign fighters would reset the scale so they could switch it back to kilograms."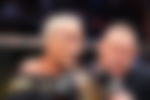 According to Rogan, this could have directly affected Oliveira's weigh-in results. As a result, the UFC commentator informed the UFC now has a guard who watches the scale throughout.
ADVERTISEMENT
Article continues below this ad
Watch this story: Charles Oliveira Top 5 Best Finishes Of His MMA Career
So fans can only hope that no other fighter has to face the situation that Oliveira did. What do you think about the Brazilian fighter getting stripped off his lightweight title? Do you think he will become the champion once again? Let us know in the comments below.
Edited By: Reubyn Coutinho