"Quick, Masvidal Him He Is Not Expecting"- Fans React as Georges St-Pierre Grabs Michael Bisping's Back at 2022 Reunion
Published 04/03/2022, 2:43 PM EDT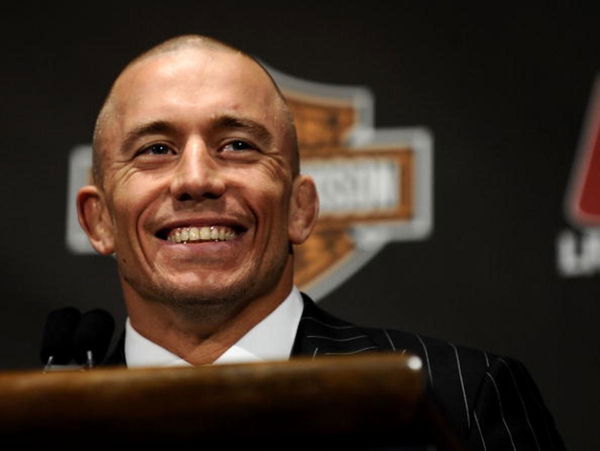 When legendary veterans and middleweight rivals Georges St-Pierre and Michael Bisping posed together on Instagram, it grabbed everyone's attention. Hilariously a comment popped on, saying "Quick, Masvidal him he is not expecting", referring to the recent incident of 'Gamebred' punching Colby Covington outside the Papi Steak restaurant in Miami and breaking his tooth.
ADVERTISEMENT
Article continues below this ad
View this post on Instagram

 
ADVERTISEMENT
Article continues below this ad
Bisping posted saying,
"Great to catch up with my old friend @georgesstpierre at the @fortheloveofmma event here in Manchester today and tomorrow. Thanks to everyone for coming out. So great to meet such friendly people".
Notably, fans still remember their past rivalry for the middleweight title and bombarded the comment section with hilarious remarks.
They went on commenting,
"Michael definitely got flashbacks when GSP grabbed his back "
"Are you intoxicated??"
"That backdrop is a mess. You 2 been fighting again ?"
"GSP seems like such a nice dude, but Idk how you are resisting choking him out lol"
 "St Pierre with hair…. Looks incorrect. Hurts my brain"
Bisping and 'GSP' had their extraordinary fight at UFC 217. The fight gained enormous hype as St-Pierre returned after an absence of 4 years and planned to compete for the middleweight title. But the press conference and trash talks elevated the interest in the fight to a whole another level.
The fight spectacularly lasted three rounds, involving punches, elbows, leg kicks, and serious takedowns. Eventually, St-Pierre dominated to prove his comeback by choking out Bisping in the third round and winning the middleweight title via submission.
Both fighters have now retired from their respective MMA careers and are inducted into UFC's hall of fame.
St-Pierre is regarded as the greatest fighter of all time and looked up to as an inspiration by fighters around the globe.
Georges St-Pierre, the greatest fighter of all times
'GSP,' as one of the UFC's two divisional champions (welterweight and middleweight), is an ultimate UFC goat. He is a black belt in two martial arts styles: Kyo Kushin karate (the hardest style of karate) and Brazilian Jiu-Jitsu. St-Pierre also added boxing, wrestling, and Muay Thai to his combat arsenal.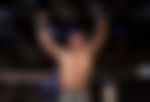 He is ranked one in UFC for highest control time (2:42:04) and top position time (2:22:05).
Ranked one in the highest takedowns landed (90),
Second rank in the highest decision wins (12)
He holds the second rank in highest title wins (13), and Third Rank in the highest winning streak (13)
'GSP' has a record of 26-2-0, and what's even more impressive is that he has avenged both of his defeats, once to Matt Hughes and once to Matt Serra.
ADVERTISEMENT
Article continues below this ad
He opted to retire because of ulcerative colitis, which was wreaking havoc on his abdomen and entire health.
WATCH THIS STORY: Khamzat Chimaev vs. Gilbert Burns Stats: Record, Reach, Height, And More
There is no doubt why he is referred to as the greatest of all times.
ADVERTISEMENT
Article continues below this ad
I hope Bisping didn't feel the need to Masvidal him, because if he did, GSP would set a new record with that too.