'RDA Dying Inside When Aldo Said That' – UFC Fans React as Jose Aldo Answers "Who Should Fight Conor McGregor?"
Published 01/21/2023, 10:25 AM EST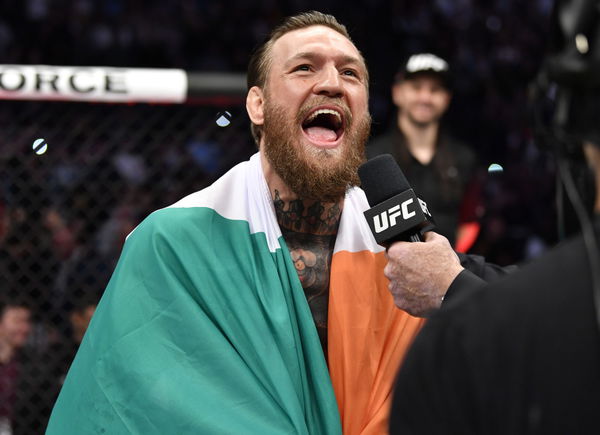 As the hour of Conor McGregor's comeback comes closer. Fighters are lining up to have a taste of the cage with McGregor. The Irish brat is arguably the biggest superstar that the UFC has ever had. A fight with McGregor is great for any fighter's repertoire and purse alike. In a pre-fight media interaction, Jose Aldo, Alex Pereira, Charles Oliveira, and Rafael dos Anjos shared the stage. Jose Aldo named the fighters he thought should be in the cage against Conor McGregor when he comes back. Aldo said that his time had passed, but the 'Poatan' could be a possible opponent for McGregor.
Jose Aldo said, "He [Oliveira] got all that momentum, right? I think my time has passed so like I said ..both Poatan, he is huge and stuff USADA ain't knocking at his door. He is big, 185 lbs, and Charles with 155 lbs. Up to 170 lbs. I think Charles can take him on."
ADVERTISEMENT
Article continues below this ad
He was answering a question by a reporter who asked him, "Who should fight Conor McGregor?". Aldo, however, did not name Rafael dos Anjos as someone he thought could go against the former double-division champ.
Fans get into a matchmaking mode for Conor McGregor
Jose Aldo made his point about Conor McGregor's potential matches. Fans had many opinions too. A fan said, "RDA dying inside when Aldo said that lol"
Another fan said, "It's kinda sad that all these Brazilian champions are still drooling for a fight with Conor McGregor." 
Fans also expressed their views on who they thought will be a good competition for McGregor. A fan suggested, "Olivera vs McGregor would be legendary" .
A fan had very different views on Jose Aldo's comment. He commented, "Aldo just said Poatan is that big because usada isn't knocking on his door to test him".
Few fans had the opinion that Conor McGregor may not have recovered completely from his fracture.
The fan commented, "Connor is useless at this point…his leg will fail on him and he will be done". 
ADVERTISEMENT
Article continues below this ad
On the other hand, there were fans who thought McGregor was the GOAT. A fan commented, "Five Brazilian world class fighters Sitting on stage Talking about the GOAT". 
RDA says McGregor is the UFC star who can choose
Jose Aldo may not have named Rafael dos Anjos, as a probable opponent for Conor McGregor; but RDA had something interesting to say about McGregor. He said McGregor was someone who could choose his fights. McG is set to return to the UFC sometime this year.
ADVERTISEMENT
Article continues below this ad
Moreover, he has been working on his Hollywood debut alongside Jake Gyllenhaal in the 1980's classic remake, Road House. Who would you like to see fight against Conor McGregor on his comeback? Let us know.
Watch This Story: How Much did Conor McGregor earn in 2022?
Edited By: Vineet Nandwana