REPORTS: Khabib Nurmagomedov Makes a Million Dollar Deal to Buy an MMA Promotion
Published 11/28/2020, 1:28 PM EST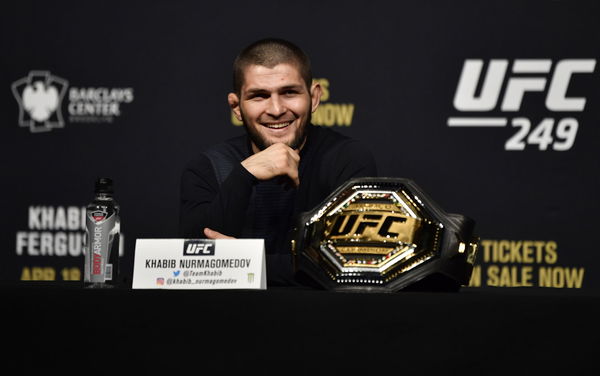 Despite announcing his retirement, Khabib Nurmagomedov has not severed his ties with MMA. The UFC lightweight champion has, reportedly, brought the Russian MMA promotion Gorilla Fighting Championship.
ADVERTISEMENT
Article continues below this ad
Russian MMA reporter Azamat Bostanov first reported the news. The official announcement is yet to be made either by the UFC champ or by the promotion. It is expected that 'The Eagle' will announce the details of the same in a press conference in Moscow on December 2. The deal is currently reported to be valued at $1 million.
ADVERTISEMENT
Article continues below this ad
Following the deal, the name of the promotion will change to Eagle Fighting Championship (EFC). As of now, the promotion stages its shows in Russia and CIS nations. However, with Nurmagomedov at the helm, it will expand into uncharted territories such as the Middle East and possibly the USA as well.
Umar Nurmagomedov, the cousin of Khabib Nurmagomedov, has fought in the GFC
Just like its counterparts, even the GFC had to stall its operations for a short time this year owing to COVID-19. However, it made a return in July. Since then, it had held three more shows, with the latest one taking place last month in October. It also has two events scheduled for December to cap off the year.
Notable names that have competed for the promotion include Umar Nurmagomedov, a cousin of the new owner. Umar went on to fight for the PFL and is currently signed with the UFC awaiting his debut.
ADVERTISEMENT
Article continues below this ad
It is expected that Khabib Nurmagomedov will shed more light on the deal in his press conference on December 2. There are speculations that the Russian champ may work out a deal with Dana White to stream the promotional fights on UFC Fight Pass globally.
Despite being in this almost constantly since his retirement, Khabib has maintained that he will stay retired. Dana White has always maintained that he feels that the 155-pound kingpin will return for one a chance to take his record to 30-0. However, the champ outrightly shut him down with his statements last week.
ADVERTISEMENT
Article continues below this ad
He said that he has his focus on completing his education and in agriculture as well. On top of it, he added that he had no competitive desire left to make a comeback. His statements came as a shocking blow to everyone who wished to witness his greatness for one last time in the Octagon.