"Respect Is Dead" – MMA Fans React as 'Cheap Shot' in Georges St-Pierre's Karate Combat Takes Down Opponent
Published 12/18/2022, 9:06 PM EST
By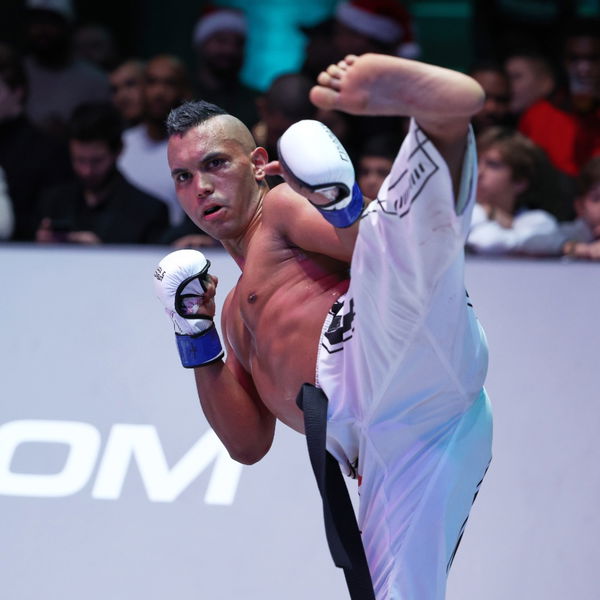 Kickboxer Gabriel Diaz is receiving a lot of hate following his MMA debut fight. The fighter recently debuted in the MMA league of 'Karate Combat'. His first-ever match in the league was set up with Samy Ennkhaili. The game took place on December 17th. Following the fight, Diaz was heavily criticized by his fans. The reason is his lack of sportsmanship. The blackbelt kickboxer was called out for his unprofessional behavior across different platforms. As the opening clip of the fight kept getting viral, the more the problem grew for Diaz.
ADVERTISEMENT
Article continues below this ad
The fight was still as hyped as it could be. Even following the incident, the league did not pay attention to this controversial detail. 
How are fans calling out Gabriel Diaz?
In light of the recent controversy, fans have been bashing the kickboxer. All the viewers and MMA enthusiasts are utterly disappointed in Diaz.
Although there are fans who do support Diaz's decision. For example, a fan wrote, "Well… protect yourselves at all times."
There are many other viewers who are fuming at the blackbelt martial artist for his decision.
 

View this post on Instagram

 
A user commented, "Touching gloves is a respect thing, this is very much the opposite".
Another fan showed his disappointment calling it "def a cheap shot".
To counter the people who support Diaz, a viewer rightfully said, "does that make him a badass? Having a bad character is nothing to be proud of".
A supposed MMA enthusiast commented, "not how I'd want to win in the ring".
Infuriated, somebody typed down their wish, "I hope he lost".
Someone on the post mentioned, "respect is dead".
Why is Gabriel Diaz receiving this backlash?
The kickboxing blackbelt, Gabriel Diaz, is a director sensei who runs a dojo of his own. He is an experienced MMA fighter, based in Orlando, US. Diaz has listed his national and international achievements in his Instagram bio.
 

View this post on Instagram

 
Despite his impressive experience, the fighter has never been seen on television. Hence, his debut fight in the televised MMA world was the one in 'Karate Combat'. Gabriel Diaz was up against Samy Ennkhaili. As the fight started, Ennkhaili was approaching Diaz to 'glove-touch' to mark the beginning. Naturally, Ennkhaili was not ready to begin immediately after the touch.
ADVERTISEMENT
Article continues below this ad
However, Diaz was prepping and attacked his opponent as soon as the gloves touched. Consequently, Samy Ennkhaili was thrown back into shock by this move. This gave Gabriel Diaz a disrespectful advantage over his opponent. As a result, this lack of sportsmanship by Diaz, the kickboxer, was seen in a negative light.
What about Gabriel Diaz's career start?
As far as his career is concerned, Diaz will still be allowed to fight as he didn't harm any technicalities. However, the matter of concern is his fanbase. The debut fight didn't do wonders for the Orlando-based sensei as one would hope.
ADVERTISEMENT
Article continues below this ad
Watch This Story:-  Sean Strickland blasts Conor McGregor wannabe Paddy Pimblett
Although things don't look favorable regarding Diaz's fanbase as of now, there can be sharp turns in this vast and interesting world of MMA.