Ronda Rousey Throwback: When 'High School Teacher Ronda Rousey Appeared on a 'Trial' Alongside Kim Kardashian's To Be Boyfriend Pete Davidson
Published 05/31/2022, 10:05 AM EDT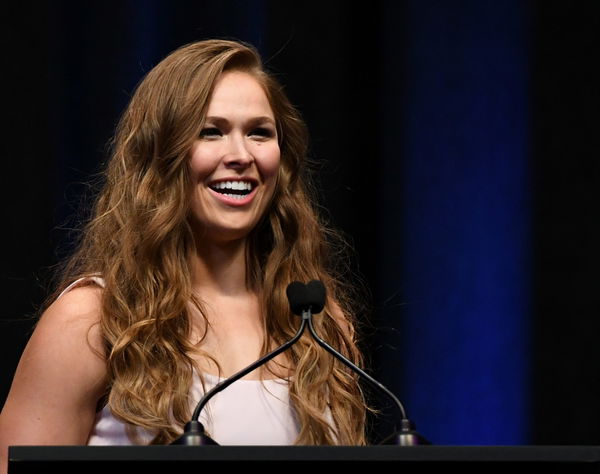 Many regard Ronda Rousey as one of the greatest female superstars to fight in combat sports. Rousey smashed many records at the UFC and made a big name for herself in the promotion. After her exit from the UFC, she explored the forked of acting and currently is a pro wrestler in WWE.
About 7 years ago, Rousey had her first loss at the UFC, and was arguably still at the peak of her fame. Around that time, 'Rowdy' appeared in a hilarious episode of Saturday Night Live alongside Kim Kardashian's current boyfriend, Pete Davidson.
ADVERTISEMENT
Article continues below this ad
In the episode, she played a role of a teacher who had an 'encounter' with her student. She was a part of a court trial because of the 'encounter' and Pete Davidson was the supposed 'victim' of it.
Even though Rousey had only two lines on the show, which were "what a dork" and "so corny", the video went viral. Apart from it being streamed on television, it amassed around 36 million views on YouTube.
Further, after the 'teacher trial', Rousey made another appearance on Saturday Night Live. She hosted the show alongside the famous pop star Selena Gomez. Rousey has great acting skills and is also very confident in front of cameras. Moreover, she is one of the biggest stars of the WWE because of these reasons.
UFC women's bantamweight champion calls Ronda Rousey her dream matchup
The UFC women's bantamweight champion Julianna Peña revealed in a recent interview that she has always wanted to fight Ronda Rousey.
ADVERTISEMENT
Article continues below this ad
'Rowdy' has done a lot for the women's bantamweight division at the UFC. Also, she is arguably the biggest star in women's MMA history. However, Peña said a fight against Rousey would be a 'dream fight' and also said she would be the first to welcome her back to the UFC.
"I want you Ronda, I want to fight you. Come back to the UFC and fight me," said the Venezuelan Vixen.
ADVERTISEMENT
Article continues below this ad
Do you think Ronda Rousey would ever come back over to the UFC? If she does, who do you think will win in a fight, Julianna Pena or Ronda Rousey? Let us know in the comments section given below.
Watch this story: Everything You Need to Know About Conor McGregor's New $3.6 Million Toy