Rose Namajunas Ready For Weili Zhang- Breaks Down Her Preparation to Destroy Her
Published 01/07/2021, 12:44 AM CST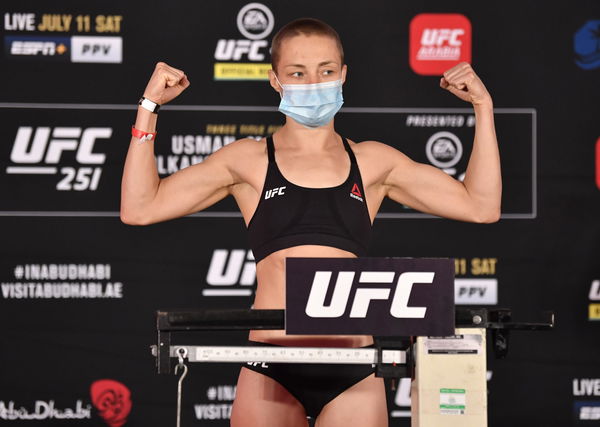 ---
---
UFC strawweight Rose Namajunas spoke out on UFC Unfiltered and shared her future aspirations regarding her previously held title. 'Thug' Rose comes in as the next woman in line to fight current champion Weili Zhang in her title defense. Chiefly, Namajunas has been at the helm of a title shot ever since she clinched a rematch win over Jessica Andrade.
ADVERTISEMENT
Article continues below this ad
The 115-pound title has been jumping hands ever since Rose Namajunas KO'ed long-time champion Joanna Jedrzejczyk back at UFC 217. The top of the division has been a carousel between Namajunas, Jedrzejczyk, Andrade, and Weili. 'Bate Estaca' Andrade has moved up to flyweight, leaving the aforementioned strawweights at the top of the heap.
Rose Namajunas chimes in on Zhang Weili
ADVERTISEMENT
Article continues below this ad
The Colorado native in Namajunas explained that she's had her eye on Weili for a while as the two potentially prepare to square off. In the past, Namajunas has shied away from committing to a title fight since she feels burdened by the belt. Moreover, this sentiment came in candidly by Namajunas herself in the past.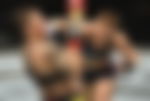 "I've been watching Weili ever since I saw her fight Tecia [Torres] a while back, I started to have my eye on her. Especially ever since she became champion I've been scouting her out and breaking her down, game-planning for her because yeah, she's got the belt, that's really what you have to go off of."
'I corrected my mistake'- 'Thug Rose'
ADVERTISEMENT
Article continues below this ad
Additionally, a large reason for her taking a hiatus from high-level competition comes in because of her loss to Andrade. 'Thug Rose' suffered a KO loss to the Brazilian via Pile driver slam that certainly scarred her in some way. Furthermore, she dominated the fight right until the point she had her head slammed on the canvas.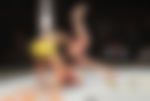 "Somebody dropping you on your head like that, that's not cool, man. I gotta fix that mistake because I can't go around walking around the streets knowing that that could possibly happen. I need to fix that mistake and I need to make those adjustments and make sure that I'll protect myself from here on out. So I corrected that mistake, I put that behind me, and I'm ready for the belt." 
ADVERTISEMENT
Article continues below this ad
It seems as though Rose Namajunas has moved on from her past pressures of being a champion. Now, it appears as though she's ready for the spotlight once again after taking some time to evaluate her career. The general consensus is that she's one of the very best strawweights and fans are excited about her return.