'I Have a Shinigami With Me'- When Israel Adesanya Channeled His Inner Death-Note To Defeat Robert Whittaker
Published 03/02/2021, 6:00 AM EST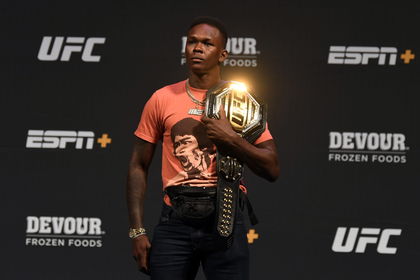 ---
---
Israel Adesanya is one of the most popular superstars across the UFC roster. His personality and the ability to get along with the contemporary culture play a big role in him garnering this kind of attention in such a short time span. Adesanya has managed to grow on the UFC faithful with his rather off-beat personality.
ADVERTISEMENT
Article continues below this ad
One of the things that stands out among Adesanya's antics is his love for anime. Adesanya is a big fan of anime and never fails to showcase his affinity for it whenever he is entering the Octagon or showing off his post-fight celebration.
Stylebender had whipped out his Death Note against Robert Whittaker
ADVERTISEMENT
Article continues below this ad
Hence, it was no surprise when he did something similar before 'The Last Stylebender' captured the middleweight title by defeating Robert Whittaker at UFC 243, back in 2019.
Adesanya seemingly wrote something in an imaginary book inside the Octagon while the pre-fight introductions were being done by Bruce Buffer.
When asked what was that all about, Adesanya said, "I have a shinigami with me. And I just had to write his name because I knew — he's not gonna last. I just wrote his name in a death note. Those who know the rules of the death note, they know. There's a certain timeframe. After your name's written in the death note, the shinigami will get you."
Stylebender has drawn reference to the famous manga and anime series 'Death Note' here. The Death Note was first brought into the human world by a shinigami called Ryuk. Ryuk was a bored shinigami who stole a second Death Note and dropped it to the human world for Light Yagami to find.
Light found that Death Note and used it to cleanse the evil and injustice of the world which added to Ryuk's entertainment.
Adesanya seemed to have his own version with help of which he eliminates his opponents.
Is Israel Adesanya the most entertaining superstar in the UFC?
Stylebender ranks among the most high-profile fighters in the UFC. His fighting style itself is enough to attract fans to seats. To top that off, he is incredibly entertaining with his antics outside the Octagon. He is as contemporary as one can get, which makes it easier for the fans to relate to his perspective and furthermore breaks the consensus concept of an MMA fighter.
ADVERTISEMENT
Article continues below this ad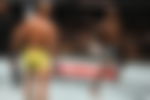 Izzy is unbeaten in MMA and in the UFC and is currently the middleweight champion of the world. He will fight Jan Blachowicz this weekend at UFC 259 as he looks to make history by becoming one of the very few double champions in the history of the promotion. We will have to see whether he can call on his shinigami once again and beat Blachowicz to become the light-heavyweight champion of the world too.
What did you make of Israel Adesanya's inner shinigami against Robert Whittaker? Can he channel it this weekend against Jan Blachowicz?
ADVERTISEMENT
Article continues below this ad