"Same Guy That Said He Would Beat Khabib" – UFC Fans React as Khamzat Chimaev Gets Called Out for a "Fight" by Eagle FC Star
Published 12/28/2022, 8:15 AM EST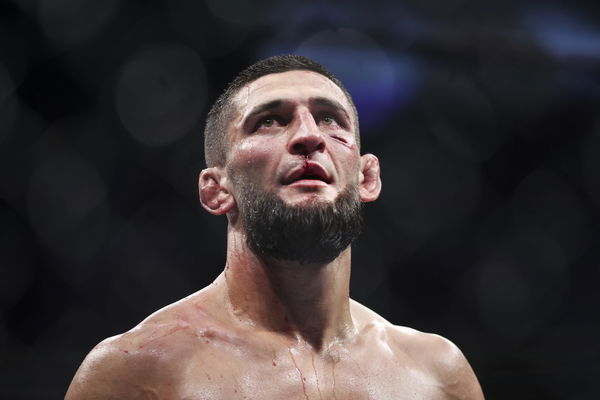 Khabib Nurmagomedov's premium MMA global promotion Eagle Fighting Championship (EFC) fighter, Kevin lee, wants to return to the UFC. He has called out UFC's welterweight fighter Khamzat Chimaev since EFC has halted organizing shows in the United States of America. The UFC released Kevin Lee last year in the wake of a few consecutive losses. He later signed with Nurmagomedov's promotion on a 4-year contract. Lee won his debut fight in the EFC against Diego Sanchez by unanimous decision.
Meanwhile, Khamzat Chimaev had posted on social media claiming that everyone is scared to fight him and complained about the lack of opponents.
ADVERTISEMENT
Article continues below this ad
The Russian-born Swedish fighter had his last UFC fight against Kevin Holland at UFC 279. He won the match by submission, and since then, he had plans of fighting Alex Pereira and Colby Covington in 2023. But his plans have not come to fruition.
Chimaev claimed that the fighters who were offered a fight with the undefeated welterweight fighter refused to take the deal. Nobody accepted to fight him. He recently posted a video on his YouTube channel where he said, "F*ck these boys. They gave me four different countries, four different opponents. Nobody wants to fight."
Kevin Lee calls out Khamzat Chimaev
Khamzat Chimaev is focused on returning to the octagon in March. He was originally set to take on Nate Diaz at UFC 279. But he missed his weight mark by 7.5 pounds in the welterweight division. Chimaev is open to returning to either the welterweight or the middleweight division.
Kevin Lee, on the other hand, wants to return to the UFC and fight Chimaev. He took to Twitter and called out and wrote, "I will fight @KChimaev next. He won't outwrestle me and I've never lost a first round. @ufc"
All I'm saying is I'm willing. Don't act like everybody scared of the man.

— Kevin Lee MTP (@MoTownPhenom) December 27, 2022
'The Motown Phenom' also mentioned that he is willing to go toe-to-toe with the Swedish fighter and believes that not everyone is scared to fight Khamzat Chimaev.
Fans react to Kevin Lee's callout
Fans were quick to react to Kevin Lee's Tweet and wondered what happened to Eagle FC after seeing his UFC challenge to Chimaev. Some fans also took jabs at Lee claiming that he'd not survive the undefeated Chimaev. They even went as far as to state that Kevin Lee would lose in a rematch against Diego Sanchez. Some even stood up for the EFC fighter, claiming that he deserves another run at UFC.
Here are some of the reactions from several Twitter users:
ADVERTISEMENT
Article continues below this ad
Diego sanchez would win a rematch w u lil bro
Bruh didn't you just struggle against a dying Diego Sanchez
I love you Kevin…. but……. don't.
you really feel you could give him a good run bro?
Kevin definitely deserves another UFC run…guys have had way worse losing skids and kept their jobs.. the fact Lee was cut after two losses in a row after the Gregor head kick KO is crazy
Get in line with the rest of the fighters not in the UFC that would like to fight him then when you get past that line get in the next line of unranked fighters in the UFC that would take the opportunity to fight Khamzat just to get that chance. Nice try though.

Same guy that said he would beat Khabib now works for Khabib. Struggled against a washed up Diego Sanchez. Now calling for a fight no one asked for. Dumbest head tattoo I've ever seen aswell lol.

 

#StopIt
Khamzat Chimaev has had impressive wins against fighters like Li Jingliang, and Gilbert Burns. He is known to manhandle his opponents inside the cage and has won most of his fights in a rather dominating fashion.
ADVERTISEMENT
Article continues below this ad
What are your thoughts on Kevin lee taking on Khamzat Chimaev? Drop your comments below.
WATCH THIS STORY: Conor McGregor's Insane 2022: Insane-Bulk-Up, 'NSFW' Yacht Video, Joe Rogan Beef and More
Edited By: Vineet Nandwana