Sean O'Malley and His Troubles With Injuries
Published 06/25/2021, 1:00 PM EDT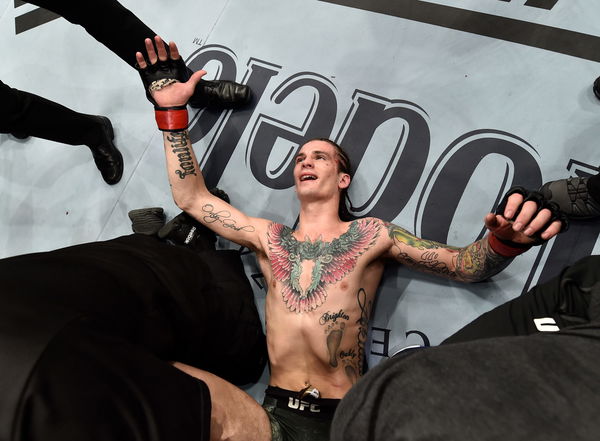 ---
---
Rising bantamweight superstar Sean O'Malley is back in action at UFC 264 against Louis Smolka. This is one of the year's biggest events as it features the trilogy fight between Conor McGregor and Dustin Poirier, and the UFC has trusted O'Malley with a huge spot once again.
ADVERTISEMENT
Article continues below this ad
The man known for his knockout prowess and impeccable striking has had some setbacks in his career. He has only ever lost once in his professional MMA career, and he fails to recall that it ever happened.
O'Malley's first loss came against another bantamweight star in Marlon 'Chito' Vera, who defeated him via ground and pound in the first round.
ADVERTISEMENT
Article continues below this ad
Even though the fight lasted less than 5 minutes, it was packed with action. Suga Sean started out great by using his striking and effectively winning the exchanges by landing a few more strikes.
However, it all went horribly wrong around the fourth minute as Vera landed a leg kick that seemed to shut down O'Malley's leg completely.
The injury was so severe that O'Malley couldn't stand on his leg and immediately dropped to the ground trying to get into guard. However, his leg was useless, and Vera got into the full mount position and started punching away.
Finally, the referee had to step in to stop the fight in the first round as O'Malley's unbeaten run came to an unfortunate end. However, this wasn't the first time that O'Malley's leg had been compromised.
Sean O'Malley suffers a horrible leg injury at UFC 222
It was O'Malley's second fight with the UFC as he faced Andre Soukhamthath. It was an incredible display from the young star as he dismantled his opponent at the end of three rounds.
However, the third round did more harm to O'Malley than the other two as a botched leg kick attempt resulted in O'Malley losing all movement in his leg.
ADVERTISEMENT
Article continues below this ad
Soukhamthath tried to take advantage of it by kicking it, but the American star took the fight to the ground and kept it there. He ended the fight on his back and kept lying there as he couldn't get up at all. He did win the fight, but the injury kept him out of the octagon for two years.
Thankfully, he has recovered now, and it looks like the worst is behind him now. It'll be interesting to see whether O'Malley can beat Louis Smolka at UFC 264 because if he does, he'll surely enter the Top-15 in the official UFC rankings for the bantamweight division.
ADVERTISEMENT
Article continues below this ad