Sean O'Malley Names A Fighter, Yet to Make UFC Debut, As The Next 'Massive Superstar'
Published 01/22/2023, 3:19 PM EST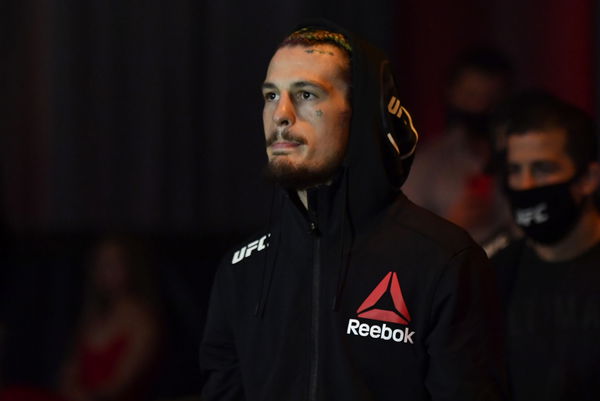 When we talk about the biggest names in the UFC, the superstars, there aren't many contemporary fighters that come to mind. The term 'superstar' comes with a litany of attributes that surpass merely the fighter's combat prowess. And there have been only a handful of such fighters who've ticked all the boxes to be labeled quintessentially a 'superstar'.
We have Conor McGregor, who is arguably the biggest name in the UFC, then there is Jon Jones, Khabib Nurmagomedov, Ronda Rousey, and veterans like Georges St-Pierre and Brock Lesnar. But the concerning part is, none of the above are active as of now. Except for Jon Jones, who is returning after 3 years, Conor McGregor's comeback is yet uncertain. That leaves no major active name in the UFC. That is exactly what appeared alarming to Sean O'Malley. And after giving it a lot of thought, 'Suga' stumbled upon one such fighter who could serve as the next standout name on the UFC.
Sean O'Malley picks this upcoming UFC fighter as the next superstar
ADVERTISEMENT
Article continues below this ad
During the episode #93 of his podcast, the native of Helena expressed issue about the UFC's lack of star power. He stated, "UFC needs a superstar right now. They got Jon Jones. But I mean, he's getting older, and he's not guaranteed to get to the fight. I think he will. I mean, just saying stuff happened. Even if he does fight, it's like, 'when does he fight again?'" 
After addressing the uncertainty of consistency that 'Jonny Bones' would exhibit even after his comeback, 'Suga' discussed Paddy Pimblett. O'Malley believes 'The Baddy' holds the potential, but doesn't ring that way. Furthermore, O'Malley defined what he means when he says 'superstar'. "I'm talking about who's gonna bring the most eyeballs? Who's gonna have the most- Who's gonna give the people that feeling, when they walk out at the weigh-ins during the fight week? They're like, 'Oh sh*t, this fight is happening.'"
After discussing a few potential contenders, Sean O'Malley finally stumbled upon one name that he feels meets all the criteria. "Bo Nickal's up there. I mean, he's still obviously new in his career in the UFC. But that's like… that's interesting."
O'Malley thinks the winner of the Dana White Contender Series, Bo Nickal, has all the qualities of becoming the next 'superstar'.
What makes Bo Nickal the ideal pick?
ADVERTISEMENT
Article continues below this ad
The 27-year-old Bo Nickal started off his MMA career last year itself at Jorge Masvidal's iKon FC 3. Within the period of June-September, Nickal competed thrice, taking home the victory each time. Interestingly, he's wrapped up all the fights nearly around one minute with one KO and two submissions under his name. Jorge Masvidal himself has commended the UFC hopeful for his wrestling capabilities.
Speaking of Bo Nickal, O'Malley said, "I think he does have (the potential), which he can, a hundred percent, go and win next 3, 4, 5 fights in spectacular fashion. Is that possible? Hundred percent. Can he do it? A hundred percent. But will it happen? That's the thing." He added, "And I could see him do it. He looks super skilled, he has good training, and he seems like he wants it. You know what I mean? He wants to be that guy."
ADVERTISEMENT
Article continues below this ad
The 27-year-old was supposed to make his UFC debut last year December but withdrew due to injury. He is now expected to debut this year. And we wait to see how this fighter fares on Sean O'Malley's expectations.
Watch this story: Jon Jones' UFC Deal Compared To Francis Ngannou And Brock Lesnar