Sean Strickland Wonders How Does Joe Rogan Play to "Autistic" Kanye West's "Sh*t With a Straight Face"
Published 05/20/2022, 6:49 AM EDT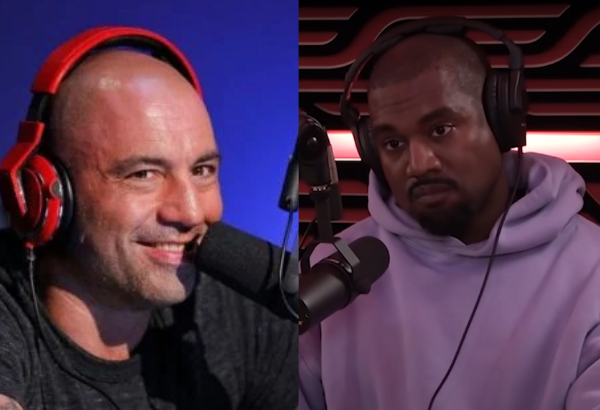 Renowned hip-hop artist Kanye West once made an appearance on The Joe Rogan Experience. Episode number #1554 saw the duo talk about a wide range of things and even broke down the public hate West faces. The UFC commentator's interaction with the rapper caused him to change his perspective. However, the UFC middleweight contender, Sean Strickland, doesn't believe anything West says.
'Tarzan' Strickland shared a clip from the podcast where Rogan praised the rapper for being different from the world. He also claimed that the West is misunderstood and often the ideas that spring out of his mouth confuse the world.
ADVERTISEMENT
Article continues below this ad
Strickland attacked the UFC icon and claimed that the rapper was quite detached from reality. He could not understand how Rogan believed the words West said and even dubbed him as 'Absolutely Insane.' 
How does Rogan play into this shit with a straight face…. bro you're absolutely insane, detached from all reality lmao!!! This is what happens when you give an autistic person money.https://t.co/tqqpJZocf1

— Sean Strickland (@SStricklandMMA) May 20, 2022
The aforementioned clip made it quite clear that West has earned a fan in Joe Rogan, as he backed the rapper. Unlike 'Tarzan', MMA fans had a different reaction to the matter.
MMA community reacts to Sean Strickland losing his cool on Joe Rogan
Fans quickly hopped on the thread to share their thoughts about the verbal rant. The micro-blogging website has hosted many rants of the middleweight fighter, and this one was no different.
While some users backed the UFC fighter, others wished to see him make an appearance on The Joe Rogan Experience.
When are you going on Joe Rogan?

— Ranbo 🇦🇺 (@RanboGG) May 20, 2022
Another user pondered whether he was actively preparing for his fight against the rising mixed martial artist and world champion kickboxer, Alex Pereira. The kickboxer holds not one but two victories over current middleweight champion Israel Adesanya.
Bro who cares about rogan in 2022 get ready for that fight with Pereira bro that mf'er is coming for your head and he took the current champs head off Twice..this gonna be a massive step in comp for you at 185

— Sean (@SeanNotShelby) May 20, 2022
Other fans argued that MMA's ground game will prove to be too much for 'Paotan'.
MMA is a different ball game, Strickland will take him down easily

— Hitman Agent DoBronx (@nathxn_wyn) May 20, 2022
Fans of Kanye West backed the rapper and corrected the MMA fighter for misunderstanding him. This user stated that the West is regarded as the biggest icon for good reason.
I hate Kanye's music, but I also agree with Joe.

Sean, we're talking about the biggest of icons in Kanye. There's a lot of wires loose there and like Joe said there's a different energy source.

Just like you're not understood with your mental issues, Kanye is the same way

— NotTheFakeEli (@FilaEli) May 20, 2022
Another fan suggested that both Rogan and West earned their keep and didn't accept any handouts.
ADVERTISEMENT
Article continues below this ad
Nobody gave anyone money bud. They both earned it. Sorry can't agree with ya seanie

— james (@james71152922) May 20, 2022
It seems like fans found his verbal barrage too harsh as the community ensured to voice their thoughts and defend both men.
ADVERTISEMENT
Article continues below this ad
Watch this story: Joe Rogan Experience Episodes With The Most Views Featuring  Elon Musk, Alex Jones, and More 
What's your take on Strickland's views on Rogan and West's conversation?
Edited By: Reubyn Coutinho