Stipe Miocic in Numbers- Records and Stats in Detail
Published 03/22/2021, 2:42 PM EDT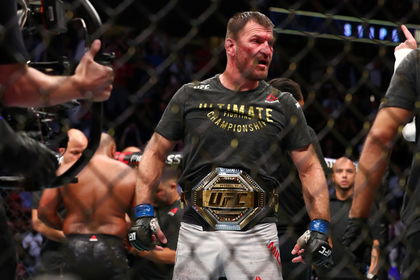 ---
---
There have been a lot of record-setters in the UFC over the past few years. There have been people who have won championships in multiple weight classes, people who have never been taken down, and people with the highest amount of title defenses. However, let's look at the records set by one of the nicest guys in the UFC, Stipe Miocic.
ADVERTISEMENT
Article continues below this ad
Miocic is an American fighter who happens to be the UFC Heavyweight Champion of the world. He has quite a few records to his name but first, let's look at the obvious ones. He's the first fighter to win a UFC belt while also being a part-time firefighter and a paramedic.
However, jokes aside, Miocic has one of the best records in the UFC Heavyweight division with 20 wins and 3 losses. He also holds multiple records in the division like most title defenses, standing tall at 4.
ADVERTISEMENT
Article continues below this ad
He defended his title against Daniel Cormier, Francis Ngannou, Alistair Overeem, and Junior Dos Santos.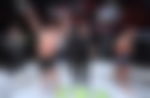 Those are some of the biggest names in the division. The American also holds the record for the most consecutive title defenses in the division with 3. Astonishingly, he held the record for the most strikes landed in a fight with a mind-blowing tally of 361.
However, former featherweight champion Max Holloway demolished this record when he landed 445 strikes against Brian Ortega. A total of 361 strikes is still the record for a heavyweight, and Stipe Miocic accomplished this feat against Mark Hunt.
Stipe Miocic doesn't believe in submissions
Interestingly, Stipe also holds the record for the highest amount of post-fight bonuses awarded in the Heavyweight division. He has 9 of them with 5 'Performance of the Night' bonuses, 3 'Fight of the Night' bonuses, and one 'Knockout of the Night' bonus against Philip de Fries.
If we break down Stipe's 20 wins and 3 losses, we see that he has won 15 fights via knockout and 5 via decision. His 3 losses include 2 knockout losses and 1 decision loss against Junior Dos Santos.
Curiously, none of his fights have ended in a split decision, and of all of his 23 fights, only one has ended via submission.
His final opponent in the NAAFS, Bobby Brents, tapped out to Miocic due to the American's fierce leg kicks. This fight also earned him the NAAFS heavyweight championship and earned him his dream move to the UFC.
Miocic has good striking accuracy, with 52% of his strikes finding the target. However, when you match this with the high number of shots he takes in fights, you'll understand why he's #3 on the highest amount of strikes landed in the heavyweight division.
Stipe Miocic's mega-fight against Francis Ngannou
He is fighting again on Saturday in the main event of UFC 260. His opponent is Francis Ngannou, and this is the heavyweight clash of the year.
There are no 2 ways about it. Both of them are coming off some impressive wins, and Ngannou looks a lot more mature than he did in his last fight against Stipe.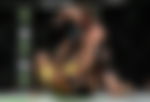 If Stipe beats Ngannou, he will extend his own record of having the highest number of title defenses in the heavyweight division.
ADVERTISEMENT
Article continues below this ad
However, fans can be pretty sure that Stipe is not focused on any of that stuff. He has his eyes set on the belt that he desperately wants to keep in the fire station of Oakwood and Valley View, Ohio.
Do you think Francis Ngannou actually has a chance at beating Stipe Miocic this time around?
ADVERTISEMENT
Article continues below this ad
MORE- WATCH: When Alistair Overeem Blamed the Referee for Not Stopping Stipe Miocic Fight