"That's Why It's Called the Dana White Original, Overpriced": Fans React to 'Dana White Original' Sandwich at UFC-Themed Restaurant Menu
Published 01/26/2023, 9:15 AM EST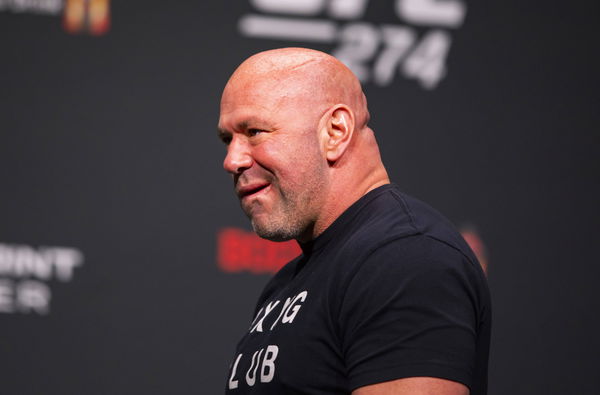 The sport of MMA has one of the craziest fans in all sports. The fans love the sport and would go to heaps and depths for its affection. One may find fanatics in all places in the world. Now, a seemingly UFC fan has opened up a restaurant that the most avid watchers of the UFC would love to visit. It seems that a UFC fan has opened up a UFC-themed restaurant serving some unique named dishes. UFC president Dana White would want to look at the menu of this restaurant. Furthermore, the fans have taken to Reddit to respond to the menu of 'Ultimate Fried Chicken' and especially one particular dish.
Fans react to 'The Dana White Original sammich'
Fans have taken to Reddit to react to a menu of Ultimate Fried Chicken Restaurant. The restaurant's menu seems to be in a UFC-featured theme. Moreover, the fans have had mixed responses to the menu, and it is leaving the internet 'crazy'.
ADVERTISEMENT
Article continues below this ad
One fan commented, "That's f*cking illegal."
Furthermore, another fan was astonished at the price of the sandwich.
They commented, "$20 for a sandwich is what should be illegal".
Similarly, another fan said, "19 for a chicken sandwich?! Is that at least a combo?"
Hilariously, another fan added, "Gotdamn must've been decided by the same guy who sets the ppv prices." 
ADVERTISEMENT
Article continues below this ad
Another fan added, "That's definitely a Dana White price." 
While one more social media user added, "It's like they're trying to replicate the ridiculous PPV prices".
There were more reactions regarding the pricing of the sandwich. A social media user said, "That's why it's called the Dana white original, overpriced".
ADVERTISEMENT
Article continues below this ad
Another fan added, "9.50/9.50 half to enter half to eat it" The fans have certainly been honest reviewers of the menu of the restaurant. Furthermore, one aspect that we noticed was that the fans correlated UFC PPV prices to the price of the sandwich.
UFC PPV Prices are on a rise
The fans in the post's comment section clearly made it felt that they were unhappy with the price of the UFC PPV. Moreover, the UFC president increased the prices of the PPV this year too.
Mike Bohn said this last year, "With a yearly subscription fee of $99.99 in addition to 13 pay-per-view events at $79.99 each. the annual cost to consume the entire UFC schedule without any discounts applied is more than $1,000."
What do you think of the prices of the UFC PPVs? Moreover, do you want a UFC-themed restaurant in your city?
WATCH THIS STORY–Tyson Fury, Kamaru Usman, Dana White And Others React To Mike Tyson Battering A Drunk Fan On A Flight.
Edited By: Vineet Nandwana