The G.O.A.T Debate- Is Stipe Miocic the Greatest UFC Heavyweight Ever?
Published 03/21/2021, 2:16 PM EDT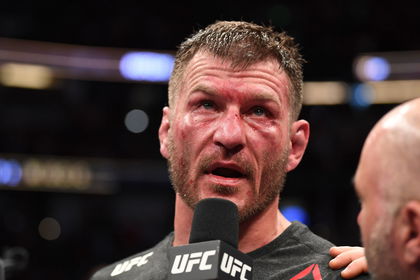 ---
---
Stipe Miocic returns to the octagon at UFC 260 next weekend as the UFC's heavyweight champion will defend his belt against 'The Predator' Francis Ngannou.
ADVERTISEMENT
Article continues below this ad
It will be a rematch between the duo with Miocic getting the better of Ngannou at their previous meeting at UFC 220. Miocic, is often considered one of the greatest heavyweights of all time by UFC faithful, and rightly so.
The champion has fought nothing but a row of killers over the course of his career. Some of his opponents rank in the list of greatest fighters of all time on their own merit.
ADVERTISEMENT
Article continues below this ad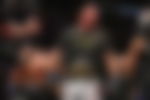 Daniel Cormier, Junior Dos Santos, Fabricio Werdum, Alistair Overeem, Mark Hunt, Andrei Arlovski, Roy Nelson are just to name a few of Miocic's victims.
Ngannou knows first-hand that even his scary power is not enough to intimidate the champion. So, 'The Predator' will have to perform better than ever if he is to dethrone the champion at UFC 260.
And another win over Ngannou, who is often considered as the scariest power puncher to ever step foot inside the Octagon, will further solidify Miocic's status as the greatest heavyweight of all time.
Ahead of the monumental clash, we take a look at the facts and records behind the consensus belief of Miocic's G.O.A.T status.
Stipe Miocic's UFC tenure scrutinized
Miocic joined the UFC back in 2011 with a professional record of 6-0. He started his MMA career fairly late at the age of 27. Miocic fought Joey Beltran at UFC 136 in his promotional debut.
A performance showcasing his balance between striking and grappling earned him a unanimous decision victory in his debut(29–28, 30–27, and 29–28).
Two back-to-back finishes over Philip De Fries and Shane Del Rosario set him up for a clash against the dutch heavyweight Stefan Struve.
This was Miocic's first opportunity to main event a UFC card. However, he suffered a knockout loss against Struve, which was also his first loss as a professional.
Miocic found his way back to winning ways at UFC 161, earning a decision over Roy Nelson. Another decision win against Gabriel Gonzaga and a finish of Fabio Maldonado brought him to the limelight as he had already established himself as an elite in the heavyweight division of the UFC.
A main event clash against former heavyweight champion Junior Dos Santos was next for the then 32-year-old. A win would have catapulted him into the title picture. However, after a 5-round battle, the Brazilian Dos Santos took home a unanimous decision win.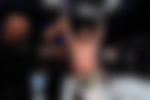 Miocic returned in May 2015 as he headlined another UFC card against Mark Hunt. He finished 'The Super Samoan' in emphatic fashion.
Yet another finish over former UFC heavyweight champion Andrei Arlovski earned the Ohio native his maiden shot at UFC gold against Brazilian submission wizard Fabricio Werdum.
Stipe Miocic becomes the UFC heavyweight champion
Miocic knocked out Werdum in the 1st round of the main event of UFC 198 to become the undisputed UFC heavyweight champion.
Another subsequent 1st-round knockout over Dutch kickboxing legend Alistair Overeem at UFC 203 marked the first defense of the Cleveland native's reign.
He was set for a rematch against Junior Dos Santos at UFC 211, in 2017. Miocic avenged his 2015 loss by knocking the Brazilian out in the 1st round of their fight.
A manhandling of Francis Ngannou at UFC 220 marked his 3rd title defense, which was the most by any heavyweight champion in the history of the UFC.
The trilogy between Stipe Miocic vs Daniel Cormier
Daniel Cormier moved up to the heavyweight division of the UFC in 2018. The then light-heavyweight champion shockingly knocked out Miocic to become the second-ever simultaneous double champion of the UFC. Miocic had to wait over a year to get his rematch against DC.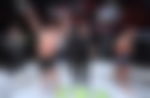 At UFC 241, the former champion returned the favor to DC, knocking him out in the 4th round of the fight and reclaiming his belt in the process.
They were set for a trilogy fight at UFC 252. The stakes were much higher than only the heavyweight belt, as many believed the winner of that fight would cement himself as the greatest heavyweight of all time.
Miocic eventually went on to win a unanimous decision and cemented his legacy as the greatest heavyweight fighter of all time. The 38-year-old legend will look to make his 5th title defense over two terms when he faces Ngannou at UFC 260.
Is Miocic the greatest heavyweight of all time?
Miocic holds an excellent professional record of 20-3. The firefighter has a massive tally of 15 T/KO wins under his impressive resume. His boxing skills are exemplary as he is too fluid for a man of his size and possesses fight-ending knockout power.
But when called for, he can fall back to the wrestling department as well. He relied heavily on his grappling during his fight against Ngannou.
ADVERTISEMENT
Article continues below this ad
Miocic has landed an impressive 24 takedowns over the course of his career. Also, he is a multiple UFC bonus winner with 3 Fight of the Night, 5 Performance of the Night, 1 Knockout of the Night, and more under his belt.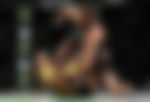 Furthermore, he has defeated every other contemporary during his UFC reign. Perhaps only a fight between him and Cain Velasquez is missing from his record.
ADVERTISEMENT
Article continues below this ad
But his body of work is too good to dismiss him as the greatest heavyweight of all time. What do you think? Is Miocic the greatest heavyweight of all time?