'The Mainstream Media Doesn't Know Nick Diaz'- Dana White
Published 09/27/2021, 2:25 AM EDT
---
---
Stockton's very own Nick Diaz made his UFC return after six years. He went up against Robbie Lawler in a much-anticipated rematch at UFC 266. Diaz was stopped by 'Ruthless' in the third round of the fight.
ADVERTISEMENT
Article continues below this ad
In his interviews before the fight, Diaz repeatedly expressed his dislike for fighting. However, the UFC president, Dana White, had a different story to tell.
In an interview, while talking about the Stockton native White said, "I was watching ESPN this morning in the gym and they did a big piece on the fight. You know, should he be fighting or shouldn't he be fighting? I mean, you know, the mainstream media doesn't know Nick Diaz like we know Nick Diaz. You never know what to expect when you walk in the fight week, Nick. So I was expecting anything was possible."
ADVERTISEMENT
Article continues below this ad
He added, "But I didn't know if he was going to show up to any of this stuff or what he was going to do, but like I always say about the Diaz brothers, you know. They're going to show up on Saturday and they're going to fight. They came to me in Texas met with me in my room. After the fight said that he wanted to fight, we put together a fight. We sent him about an agreement he went into the training came. He jumped on a plane and flew here. And he showed up to everything on time early shoed up early for things. That looks like somebody who wants to fight."
Even though the 38-year-old looked like a shadow of himself, the fight entertained the fans and they kept cheering him on the entire fight.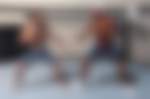 Nick Diaz vs Robbie Lawler 2
The 26-10 record holder Nick Diaz returned to the octagon after a long hiatus for a rematch against 'Ruthless'. A rematch that came 17 years after their first meeting. It was scheduled to be a non-title five-round gruesome scrap, garnering a lot of attention from the MMA fans.
ADVERTISEMENT
Article continues below this ad
Coming to the fight, Diaz opened up right after the first bell. Lawler also welcomed Diaz with a furious start. Both the fighters exchanged heavy punches with each other. Diaz utilized his long jabs along with hard right hands, and a lot of combinations throughout the fight.
However, 'Ruthless' looked better than ever thanks to his counter punching, which was on point all night. He eventually delivered a brutal right hand that dropped Diaz to the canvas and followed it up with a strong uppercut that left Diaz with a bleeding nose. The fight came to a halt at the end of the third round, with the referee stepping in to save Diaz from Lawler's onslaught.
Watch This Story
What are your thoughts on the fight? Let us know in the comments below.
ADVERTISEMENT
Article continues below this ad
WATCH THIS STORY: Five Potential Match-Ups for Alexander Volkanovski After His Spectacular Victory Over Brian Ortega at UFC 266