"'The Rock' Just Left Me a Message"-Francis Ngannou Explains How Dwayne 'The Rock' Johnson Helped Him in His Career
Published 01/22/2022, 12:43 AM EST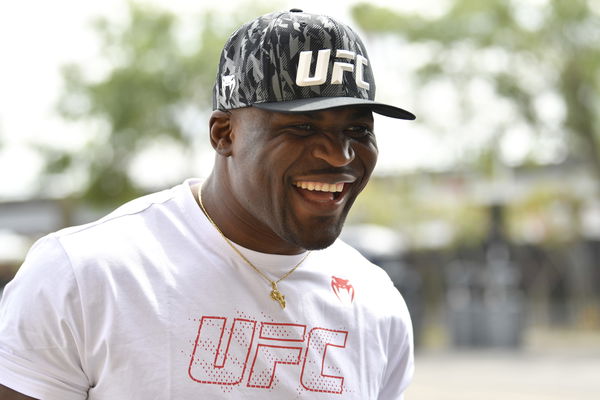 'The Predator' Francis Ngannou is fast headed to, arguably, one of the toughest fights of his life at UFC 270 in Anaheim, California. Ahead of the fight, Ngannou recalled all the blessings he has had and the people that helped him stay motivated. One of the first people to cheer Ngannou when he was not at the helm of the UFC was Dwayne 'The Rock' Johnson.
The premier athlete and wildly popular actor supported him verbally and patted his back when he came back with a UFC strap on his shoulder.
ADVERTISEMENT
Article continues below this ad
At The Daily Show With Trevor Noah, The Cameroonian explained how 'The Rock' helped him in his career.
"I always look up to somebody like 'The Rock' Dwayne Johnson and recently, he noticed me, and now we even chat. I text, and 'The Rock' texts back, and sometimes, he left me a voicemail. And then, when I wake up someday, just listen to it – 'The Rock' voice, voice message. You know, I'll go out there that day. I work double of what I supposed to work," Ngannou said.
'The Predator' continued, "I am just motivated. I am like, 'Damn! 'The Rock' just left me a message. This is it.' You know, the enthusiasm, the motivation of that just message, you know. And then I realize how great is it to be in the position that you have that power to, like, maybe just talk to somebody and change his day or his life. And I want to be the same thing for others."
"Basically, knowing where I came from, that's what we need. We just need hope."
Highlights of Francis Ngannou's career
Francis Ngannou was born into a poverty-stricken family in Cameroon. 'The Predator' started working at a stone quarry at 11 to provide for his family. It was around the age of 13 when he first ventured into combat sports with boxing.
As he progressed further in his life, Ngannou finally found his way into Paris where he met MMA Factory coach Fernand Lopez.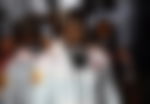 Lopez helped Ngannou train and even provided him with accommodation at the gym. With professional training, 'The Predator' finally made his way into the professional scene in 2013.
ADVERTISEMENT
Article continues below this ad
With a series of power-packed wins in the UFC, Ngannou found himself in a championship fight against Stipe Miocic at UFC 220. However, Ngannou got handed his first UFC loss by the reigning champion, followed by another defeat against Derrick Lewis.
Eventually, Ngannou climbed his way back to Miocic at UFC 260 and earned a second-round knockout win in the main event.
ADVERTISEMENT
Article continues below this ad
WATCH THIS STORY-Deiveson Figueiredos Intense Training Routine For His Trilogy Fight Against Brandon Moreno At UFC 270
He will look to add another highlight to his run and beat Ciryl Gane at UFC 270. Will listening to a voice message from 'The Rock' help him? Let us know in the comments below.