The Worst Fight of All Time: Francis Ngannou vs. Derrick Lewis
Published 03/24/2021, 2:07 PM EDT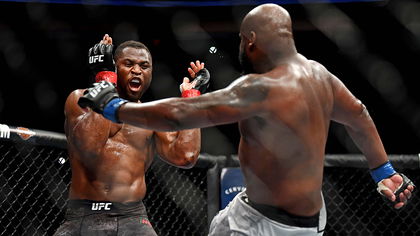 ---
---
The sole reason people consider UFC to be the greatest viewing spectacle of all time is that there's an ode to tradition in the business of cage fighting.
ADVERTISEMENT
Article continues below this ad
Since the beginning of time, people have fought each other, and it has been immortalized in the history books talking about the ancient Roman Olympics. So, when there's a fight in the UFC that is completely opposite to the norms that make this sport great, people notice.
UFC 226 was held in the T-Mobile Arena in Las Vegas, and it was one of the biggest events of 2018. The main event was a heavyweight title fight between Daniel Cormier and the champion Stipe Miocic. Additionally, the co-main event was between two stars of the heavyweight division in Francis Ngannou and Derrick Lewis.
ADVERTISEMENT
Article continues below this ad
The title fight was one of the most eventful ones in heavyweight history, with Daniel Cormier knocking out Stipe Miocic in the 1st round.
He joined an elite list of fighters who have held belts in multiple weight classes. The fight had a lot of controversy surrounding Cormier's eye pokes, and to this day, people have disregarded that victory.
However, we're going to see a fight that was immortalized in UFC lore. The main event was controversial, but Derrick Lewis and Francis Ngannou managed to overshadow it. Their fight was so controversial that people would have forgotten that Mike Perry was on the same card.
Lewis and Ngannou were known to be fierce fighters with immense power. They were knockout specialists, and even though Francis had lost his last fight, fireworks were expected. The fight was scheduled for 3 rounds, but almost nobody expected it to go the distance.
The fight that proved everyone wrong, but not in a good way
It happened. It ended. Their post-fight interviews were brutally honest. "It was a terrible performance," Lewis told reporters. "I know I say that a lot. But it was real bad of a performance," he exclaimed.
The fight wasn't just bad; it was a snooze fest. A total of 31 strikes were landed in the entire fight. That's an average of about two strikes per minute. Lewis landed 20 of them and hence got away with the unanimous decision victory.
Fewest Combined Strikes Landed, Three-round UFC Fight
23 – Pulver vs. Roque
31 – Lewis vs. Ngannou
34 – Moroz vs. Taylor
36 – Khabilov vs. Martins
42 – Liddell vs. Bustamante
42 – Brimage vs. Blanco#UFC226

— Michael Carroll (@MJCflipdascript) July 8, 2018
Joe Rogan and the rest of the commentary team didn't hold back, and Rogan said that it was the worst heavyweight fight of all time.
The crowd was on their case, too, and they were booing the fighters. At one point, the referee Herb Dean had to stop the fight to remind them that they were supposed to fight.
The total strikes, 31, were the second-lowest ever landed in a 3-round UFC fight. It broke all the wrong records and was disastrous for the UFC.
Francis Ngannou explains his bizarre performance
He stated that his back restricted his movement, and hence he couldn't fight well. Ngannou had a better excuse. He said that he was so scared of Lewis' power that he didn't throw punches. He credited his loss against the champion, Stipe Miocic, for his fear and said that the loss crippled him in this fight.
It hurt both of their reputations so badly that none of them would get a title shot for a while. Lewis and Ngannou were the two clear favorites to rise and conquer the heavyweight division, but this fight single-handedly destroyed that momentum.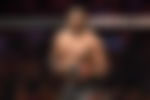 Ngannou is finally fighting Stipe on Saturday in the main event of UFC 260, after redeeming himself with multiple knockout victories. Lewis has gone on his own run of success and is now in the conversation for a run at the Heavyweight gold.
ADVERTISEMENT
Article continues below this ad
However, in typical Derrick Lewis fashion, he asked for 3-round fights from the next time. You don't have to be a genius to understand that this statement rules him out of all title fights and main events.
Nevertheless, this UFC 260 bout is going to be amazing. Even if it's not, it surely won't be as bad as Ngannou's fight against Lewis.
Do you think Francis Ngannou has what it takes to beat Stipe Miocic?
ADVERTISEMENT
Article continues below this ad