"They're All Crazy" – Joe Rogan Goes Off on Hollywood Elite's "Unhealthy" Personalities Bred for "Compliance"
Published 03/14/2023, 1:27 PM EDT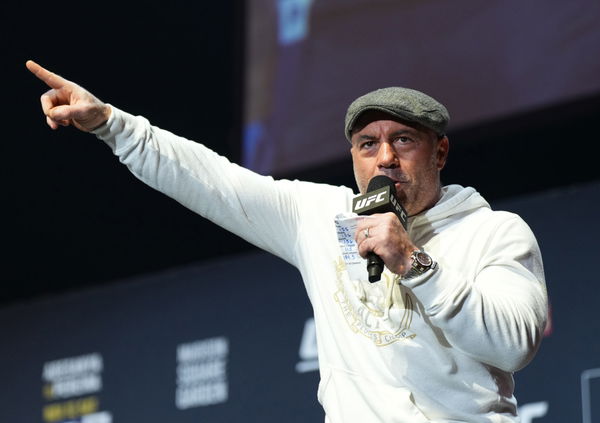 Joe Rogan recently dropped another episode of his multi-million-dollar podcast, 'The Joe Rogan Experience'. The 55-year-old is known for picking up interesting topics and chatting with his guests regarding the same on his podcast. In this episode, he talked about the unhealthy persona that the elites in Hollywood possess in order to make it to the top of the industry.
The UFC commentator invited YouTuber Coffeezilla as his guest for the #1951 episode of the JRE podcast. They talked about the problems in Hollywood. Rogan claimed that when someone makes it to the industry, people love them when they're doing well. However, when things aren't going too well for the actors, nobody wants to talk to them.
ADVERTISEMENT
Article continues below this ad
Coffeezilla then asked the podcast host if it does break a person from within. To this, Rogan answered, "Of course. That's why they're all crazy." He then added, "In the Hollywood, it's even worse, right? Because you don't get to choose your own destiny." 
He reiterated how Coffeezilla was able to make his YouTube channel on his own. But that's different from the way Hollywood works.
Joe Rogan says Hollywood actors' personalities only cater to the people who put them in movies
The 55-year-old podcast host talked about how Hollywood actors develop a personality that meets the needs of the people who provide them with opportunities to land a movie role. He said, "In Hollywood, the problem is that you're chosen for everything. So you're being cast in these things …you have to deal with people that approve you or pick you. So you're formulating your personality based on whatever the Zeitgeist is, whatever the ideology of most of the producers are."
Joe Rogan also reiterated how things would have been if Hollywood had a right-wing ideology. He said, "If all of Hollywood was right-wing …if all the producers and all the executives …the studios were all very conservative and right-wing, all actors would be conservative ..it would be 100 percent compliance."
ADVERTISEMENT
Article continues below this ad
The JRE host also claimed that most people in Hollywood just seek attention. He said, "They [Hollywood stars] wanna be that person that just gets f***ing exorbitant amounts of love and attention and it's very unhealthy."
However, Rogan believes that the actors don't necessarily adhere to those norms. But they do so just to fit in and have a successful career. He claims that these actors form their ideas and opinions based on what they believe will help them become a success.
ADVERTISEMENT
Article continues below this ad
What are your thoughts? Let us know in the comments below.
WATCH THIS STORY: Everything to know about Conor McGregor-Michael Chandler TUF 31
Edited By: Vineet Nandwana