'They're Almost Like My Father's Age' – Khabib Nurmagomedov Explains Why He Jumped on the Other Side of Cage After Conor McGregor Fight
Published 09/04/2021, 2:25 PM EDT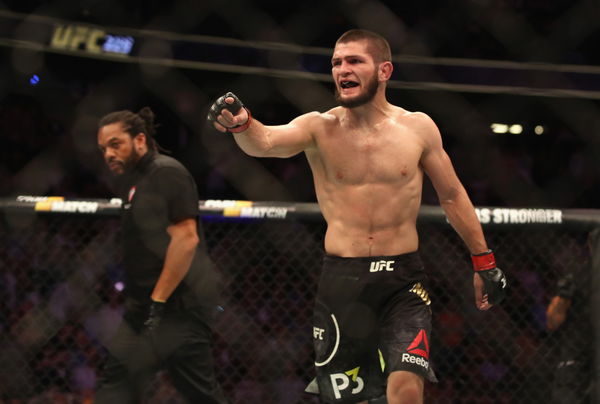 ---
---
Khabib Nurmagomedov is inarguably one of the greatest MMA fighters of all time. 'The Eagle' was undefeated throughout his MMA career and competed in some of the biggest fights in UFC history. Throughout Nurmagomedov's career, the fighter has had a rivalry with various fighters. However, his biggest opponent was undoubtedly Conor McGregor.
ADVERTISEMENT
Article continues below this ad
'Notorious' and 'The Eagle' faced each other in their much-anticipated fight at UFC 229. Through the build-up, to the fight, both fighters had taken various shots at each other and things had gotten very personal between them. This all reached its culmination at the UFC 229 event as Nurmagomedov defeated McGregor via a 4th round submission.
Following the victory, Nurmagomedov jumped out of the ring and attacked members of McGregor's team. During a recent interview, 'The Eagle' talked about why he did it and whether he regrets it. He said, "When I jumped out after the fight, I was not interested at all. I know I would be fined after all the scandal. I won the belt."
ADVERTISEMENT
Article continues below this ad
Nurmagomedov continued, "I said [to] them that they owe me a belt. I didn't care. They will take a million dollars or two, or not pay me at all. I didn't care at all and I came, and I deserved a belt and I won the belt, that is my trophy. I must leave with it. They didn't give me it there. They took us to the dressing room."
Watch This Story: UFC Vegas 36: Derek Brunson vs. Darren Till Stats: Record, Height, Reach, and More
"There were a lot of policemen. Many people came. They were around me. We spent about three hours there. I was just thinking about the belt. I won the fight and I am in the dressing room without a belt and I say, 'Guys, give me mine, I don't need anything yours.' That is my attitude."
Khabib Nurmagomedov reveals why he went after Dillon Danis
As Nurmagomedov jumped over the cage to attack McGregor's team, the fighter targeted Dillon Danis in particular. While many believed the reason for this was Danis' comments towards Nurmagomedov, that was not the case. During a recent interview, the fighter finally revealed the reason for attacking Danis.
He said, "I jumped on him because other corner is too old; because Conor's other corner, other coaches, too old, and that's why I jumped on him," said Nurmagomedov (transcribed by MMA Fighting). Because he's almost like my age. If I jumped on Kavanagh. I don't think it's too cause Kavanagh can't fight me. That's why I jumped on Danis."
ADVERTISEMENT
Article continues below this ad
ADVERTISEMENT
Article continues below this ad