'This Is Good' – Francis Ngannou Views First Fight With Stipe Miocic as a Great Learning Experience
Published 02/11/2021, 2:17 PM EST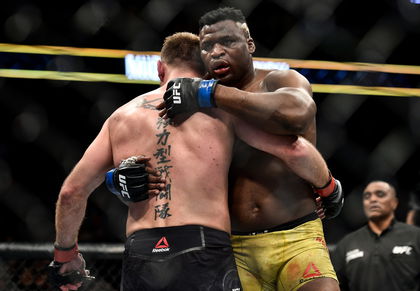 ---
---
Francis Ngannou has had a rather unorthodox trajectory for a UFC contender. After a series of highlight-reel knockouts, Ngannou was up against arguably the greatest UFC heavyweight champion of all time. The heavyweight title challenger looked back at the first meeting with Miocic as twenty-five minutes of his steepest learning curve as a fighter.
ADVERTISEMENT
Article continues below this ad
During an appearance on the Joe Rogan Experience, Ngannou talked about what went through his mind after his failed bid to capture the heavyweight gold. Fresh off a devastating knockout of Alistair Overeem, 'The Predator' was on the verge of fighting for a title merely five years after he started training in MMA. However, Miocic reminded the world that fighting at the highest level is much more than looking for a one-punch KO.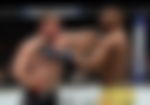 "I had two different feelings from that fight. First, I was very upset and disappointed that I couldn't win the fight. As everyone fighting for the title, you want to get out of there victorious. But, to be honest, just after the fight I look at it and think, 'This is good'."
ADVERTISEMENT
Article continues below this ad
"I just learned just too much in that fight. Even though I was on the level of fighting for a world title, I still had the missing parts in my game, and in my experience," Ngannou said.
Francis Ngannou learned more from fighting Miocic than his entire career put together
Ngannou's rise in the UFC happened in parallel with Miocic being crowned the UFC champ. However, while the 38-year-old Miocic had a couple of losses in his career before fighting for the belt, his counterpart steamrolled his way through the competition. Prior to fighting Miocic, Ngannou hadn't even gone in the third round in his professional career.
While this certifies his skills as a terrifying knockout artist, he lacked the knowledge of how to pace himself in a twenty-five-minute fight. Moreover, he also lacked a Plan B in the case when he couldn't land the knockout blow.
ADVERTISEMENT
Article continues below this ad
"I remember I questioned myself how did it look like going into three rounds. Basically, I am going into a potential five rounds when I haven't gone even three rounds. How did it look like, how is it to prepare for this kind of fight? I had a fight six weeks earlier. So I was having a lot of questions. Then, after that fight, I was like I get it," Ngannou added.
"[I had a] very quick rise and didn't spend enough time in the Octagon to have those experiences, even though it had been four years since I had been doing the sport. In one night, I covered more than my entire experience in my career."
After his loss against Miocic, Ngannou had another lackluster performance against Derrick Lewis. However, since then, 'The Predator' has lived by his nickname, knocking opponents out left, right, and center. The only thing left for him is to avenge his loss against Miocic at UFC 260 in March and complete one of the biggest rags to riches stories in the UFC.
ADVERTISEMENT
Article continues below this ad