3-ft Tall Internet Celebrity Hasbulla Magomedov Denies "Ted" Famed Mark Wahlberg's Odd Request
Published 03/10/2023, 7:15 AM EST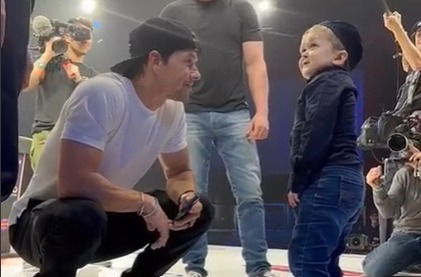 Hasbulla Magomedov has not only bedazzled the world of mixed martial arts, but also Hollywood. The internet sensation has claimed his place in the netizens' hearts with his short and trendy videos on various social media platforms. Some of the fan-favorite acts show Hasbulla seemingly dominating various personalities with his martial arts skills. 
Recently, the Hollywood star, famous for movies like 'Ted', Mark Wahlberg, went ahead and had a meeting with Magomedov. Without a doubt, the renowned actor wanted to get a hit from the 'TikTok' sensation. However, the Russian was seemingly shy about hitting the actor. Barstool Sports posted the video on Instagram. Within a matter of seconds, the comments section began overflowing with praise and love for Wahlberg and Hasbulla. Nevertheless, the MMA fans didn't fail at making hilarious comments about the video.
The MMA world reacts to the interaction between Mark Wahlberg and Hasbulla Magomedov
ADVERTISEMENT
Article continues below this ad
Recently, Barstool Sports uploaded a video clip of a meeting between Wahlberg and Magomedov. The video showed the renowned actor getting down and asking the internet star for a slap. Wahlberg said, "Can I get one slap?" However, the 20-year-old seemed to be too shy to hit the Hollywood entity. 
 

View this post on Instagram

 
The fans were quick to take up to the comments section and declare what they thought about the video. Undoubtedly, many of the fans were quirky with their comments. The fans lifted Hasbulla up high and had nothing but love for him.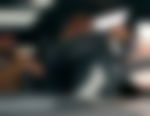 Here is what the fans said:
What a humble guy Hasbulla spared that young man's

Spared by the king

As soon as he busted the phone out , Hasbulla said nope he gonna sue me 

little guys a good man

Rational man

Hasbulla would've gave him the most devasting knockout

You don't want it

I've never witnessed a man spare another man's life. This is beautiful.

Even hasbulla hates slapfight! Smart dude

Hasbulla>basically anybody else

What are u waiting has!!!!
Hasbulla rains punches in an interview
ADVERTISEMENT
Article continues below this ad
Previously, the social media star was interviewed by Barstool Sports' Caleb Presley. However, Presley made the mistake of undermining Hasbulla and calling his fighting style fake. He questioned, "What do you say when people say Hasbulla can't fight at all? Looks like an amateur?"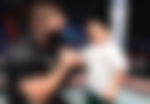 The pint-sized sensation got on top of Presley and rained down punches before saying, "Are you nuts? How about I show you?" The situation quickly got subdued as the interviewer claimed that it was the public's opinion and not his own. 
ADVERTISEMENT
Article continues below this ad
Watch This Story: From punching Daniel Cormier to headbutting Khabib Nurmagomedov: Hasbulla Magomedov's best moments at UFC 267
Are you a fan of Hasbulla's infamous barrage of punches? Let us know in the comments down below.
Edited By: Vineet Nandwana