'F**k You' – Tony Ferguson Claims Charles Oliveira and Justin Gaethje 'Didn't Finish S**t'
Published 02/07/2021, 4:16 PM EST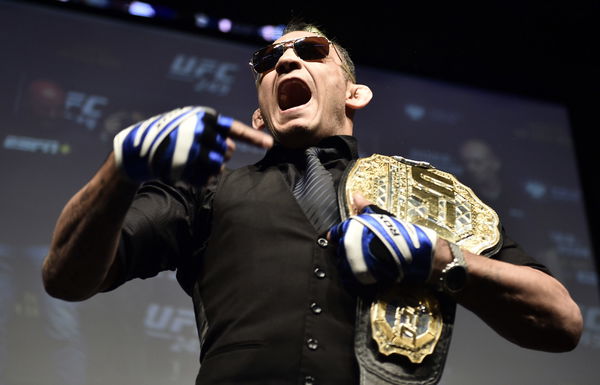 ---
---
Despite riding a two-fight losing streak, Tony Ferguson looks high on confidence. The former UFC interim lightweight champion looks to get back in the win column as he vigorously trains for the same. Despite losing on a couple of occasions last year, Ferguson's spirit looks undeterred.
ADVERTISEMENT
Article continues below this ad
While optimism really helps an athlete, Ferguson seems to have taken it too far after blasting his past two opponents despite suffering decisive losses.
Ferguson fought twice last year. He lost the first fight against Justin Gaethje at UFC 249. 'El Cucuy' endured a ton of heavy leather from Gaethje, but referee Herb Dean intervened and stopped the fight for Ferguson's own good. The defeat ended his win twelve fight win streak. Later in December, Charles Oliveira thwarted Ferguson's plan to get back in the win column with a dominant performance.
ADVERTISEMENT
Article continues below this ad
Despite being at the receiving end of where Ferguson is used to keeping his opponents, his enthusiasm remains strong. In a training video posted on his social media, Ferguson took a shot at both Oliveira and Gaethje.
He wrote, "I'll Give You Elite, Fuck @Justin_Gaethje & @CharlesDoBronxs You Didn't Finish Shit. Told You I'd See You Soon. Crew/ Much Easier To See The Targets When They Are In Front. Beyond Disciplined. New Camp, New Times -Champ -CSO-@CervezaMontejo ThisIsForLaRaza."
Does Tony Ferguson have enough in him to stitch together a win streak?
Ferguson has been the boogeyman of a division that can be called as most top-heavy in the UFC. However, while fighters ranked above him are aiming a shot at the title, the 36-year-old is looking to regain his footing in the division.
With back-to-back losses in 2020, Ferguson's stock has taken a massive dip. His fighting style of constantly pressuring forward has always been susceptible to strikes from his opponents. While Gaethje did just that, Oliveira outclassed him on the ground and completely neutralized his unorthodox transitions.
ADVERTISEMENT
Article continues below this ad
In the lead up to UFC 254, lightweight champion, Khabib Nurmagomedov, said that Ferguson's time as a top 155-pounder has come to an end. He based his assertion on the damage that the former Ultimate Fighter took against 'The Highlight'.
Nurmagomedov's theory seemed somewhat validated in Ferguson's fight against 'Do Bronx'. However, 'El Cucuy' has pulled off feats such as recovering from a torn meniscus in merely six months. Therefore, don't be surprised if he comes out all guns blazing in his next fight.
ADVERTISEMENT
Article continues below this ad