Top 5 Greatest Finishes by Dustin Poirier
Published 12/06/2021, 9:15 AM EST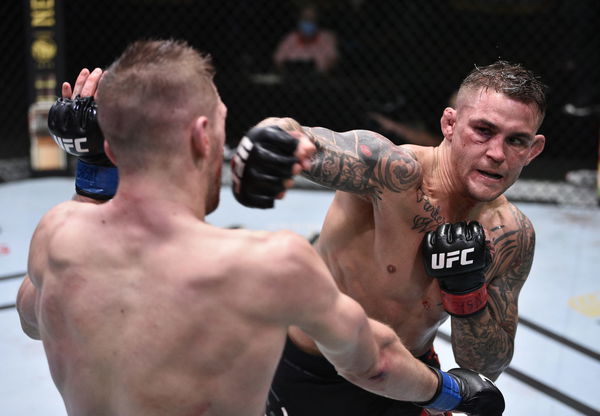 Dustin Poirier is one of the most popular UFC fighters on the planet. The "Diamond" has faced legends such as Max Holloway, Eddie Alvarez and made his name by defeating all of them.
ADVERTISEMENT
Article continues below this ad
One of the greatest highlights of his career was his ugly feud with the "Notorious" Conor McGregor, which started in 2014 and has possibly ended in 2021,
The Louisiana-native has had many wins in his career and currently stands at 28 wins and 6 losses in his MMA career.
ADVERTISEMENT
Article continues below this ad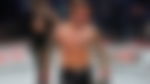 As of 6th December 2021, "Diamond" is no.1 in UFC's lightweight division and #5 in UFC's pound-for-pound rankings.
Now, the former interim UFC Lightweight champion is going to face Charles Oliveira in a championship bout at UFC 267 on December 11, 2021.
But before the fight, we look at the top 5 best finishes by Dustin Poirier in his UFC career.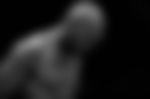 Dustin Poirier vs Pablo Garza
Dustin Poirier made his UFC debut after the UFC-WEC merger in 2010, after a couple of consecutive wins in the UFC, Dustin Poirier Faced Pablo Garza.
The first round of the fight witnessed both the fighters exchange blows cautiously, Poirier was the offensive of the two, which forced Garza (12-4) to keep his guard up. Garza almost managed to put Poirier in a lock but was unsuccessful.
In the second round, Poirier pushed Garza to the ground and landed some strikes, and in an instant timed a perfect D'Arce choke, a helpless Garza had no choice but to submit in the 2nd minute of the second round.
UFC 257: Dustin Poirier vs Conor McGregor 2
One of the most hyped fights in the history of the UFC, UFC 257: Poirier versus McGregor, is a fight no one can afford to forget. The rivals geared up for their rematch after almost 5 years after their first bout.
Everyone thought that this match will end the same as the previous one and McGregor will be the one with his hand raised at the end of the fight, but it was Poirier who triumphed.
The major action started in the second round of their match. Poirier continuously targeted McGregor's calves with kicks and abruptly switched and hit McGregor with a barrage of fierce punches. The Irish superstar could do nothing but rest on the cage as the referee stopped the fight.
UFC Fight Night 2018: Dustin Poirier vs Justin Gaethje
In the main fight of UFC on FOX 29, Poirier again did the unthinkable by defeating the "Highlight" Justin Gaethje through TKO in the first minute of the 4th round of their bout.
Poirier did what could be called as the foreshadowing for his second bout against McGregor, as Poirier blasted punches onto Gaethje and rendered him immobile for seconds until the referee came in to call the fight.
This was one of Poirier's best performances and truly showcased his talents as a fighter.
UFC 143: Dustin Poirier vs Max Holloway 1
Being one of the earliest bouts of Poirier's UFC career, Poirier wasn't a favorite against Holloway. Holloway was expected to easily clear the bout.
But Poirier had his mind made up and went straight for takedown after eating some blows along the way. Poirier slammed "Blessed" down on the ground and mounted him in an attempt for a D'Arce choke.
In the end, Poirier locked Holloway (23-6) in arguably one of the most iconic Triangle armbar in the history of the UFC.
As a result, Holloway desperately submitted in an attempt to get out of the lock. This was the only instance in Holloway's career where he was finished by his opponent.
UFC Fight Night 2018: Dustin Poirier vs Eddie Alvarez 2
The Underground King met "Diamond" at their rematch in 2018 to settle scores after their previous bout was declared a no contest.
The match looked dull in the first round. As the second round commenced, both the fighters picked up the pace and went on striking each other.
In the meantime, Poirier followed up with a knee to Alvarez and a combination of right and left hooks which Alvarez took bravely. Alvarez (29-6) tried swinging some punches towards Poirier but he dodged every one of them.
ADVERTISEMENT
Article continues below this ad
Finally, "Diamond" delivered a finishing blow to end Alvarez right there.
Dustin Poirier defeated Eddie Alvarez 3 years ago today. This was a year after their first fight at UFC 211 where it ended in a No Contest after Eddie threw some illegal knees to Dustin
pic.twitter.com/DN9Dqebtx4

— Jason Williams (@jasoneg33) July 28, 2021
ADVERTISEMENT
Article continues below this ad
Did you like our picks for top Dustin Poirier finishes? Which Fighters finishes do you want to see us cover? Tell us in the comments below.
WATCH THIS STORY- UFC 269: Charles Oliveira vs. Dustin Poirier Stats: Record, Height, Reach, and More