Tyron Woodley Picks MMA's GOAT Fighters- Leaves Khabib Nurmagomedov and Georges St-Pierre Out
Published 09/07/2021, 2:15 PM EDT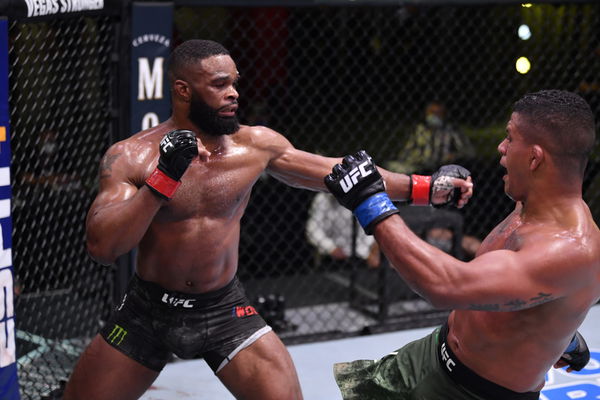 ---
---
Tyron Woodley is one of the most well-known MMA fighters. He has a record of 19 victories, 7 losses, and 1 draw over the years. He ascended through the rankings and defeated Robbie Lawler to become the UFC welterweight champion in 2016. The former UFC champion selected his MMA all-time greats in a media appearance on Friday, excluding several obvious names.
ADVERTISEMENT
Article continues below this ad
During his reign as UFC welterweight champion, Woodley, a man of many talents, famously took part in several extracurricular activities. So much so that his accomplishments in the entertainment business nearly equal those in his combat career.
"The Chosen One' recently squared off against internet sensation and boxer Jake Paul. On a Showtime pay-per-view event, the 24-year-old YouTube star defeated Tyron Woodley by split decision. The YouTuber had only three fights under his belt, whereas Tyron had 26.
ADVERTISEMENT
Article continues below this ad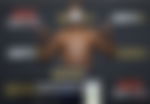 Tyron Woodley on his list of GOATs in MMA history
After retiring as the unbeaten UFC lightweight champion with a pristine career record of 29-0, Khabib Nurmagomedov is certain to be on anyone's MMA 'GOAT (Greatest Of All Time) list. His dominance inside the cage against the UFC's biggest names ensures he will always be one of the greatest fighters of all time. Georges St-Pierre too is one of the best fighters in MMA history. However, Tyron Woodley thinks differently.
In an interview with ESPN, Tyron Woodley labeled 'The Spider' one of the best of all-time in the sport. He also included Jon Jones, Demetrious Johnson, and Henry Cejudo on his list of the top fighters in history.
ADVERTISEMENT
Article continues below this ad
"Anderson [Silva], once again, he has always been able to box. Remember, a long time ago we thought we would see him boxing Roy Jones Jr. I really just like to see the OGs get the respect they deserve. I like to see them at the top. Outside of Jon Jones, I think him and Demetrious Johnson are, in my opinion, are right there. Maybe [Henry] Cejudo after that, because Cejudo did so quick. He was cringey, but guess what, he was fast."
"When you look at the GOATs of this sport – it is hard to be a GOAT in this sport – you got to deal with Father Time, you got to deal with the backgrounds, you got to deal with the different elements. Everybody is not 100%. We got a life to be normal like everybody else. We go through depression, we go through bad situations, we go through bad health, and we still got to turn up," said Tyron.
ADVERTISEMENT
Article continues below this ad
The Chosen One even talked about what professional fighters like him go through on the daily basis. He explains that life as a fighter is not all about money, cars, and lavish lifestyle. They go through a lot behind the scenes and are, at the end of the day, human beings as well.