Tyron Woodley's Spectacular Knockout Over Robbie Lawler at UFC 201
Published 09/23/2021, 6:52 AM EDT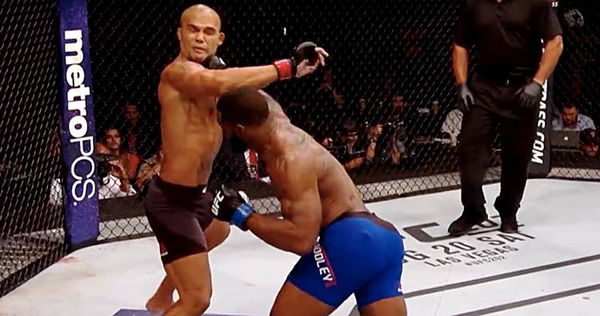 ---
---
Robbie Lawler is a former UFC welterweight champion who has had a terrific career and is responsible for some of the most exciting fights in MMA history. Despite his age, he clearly lives up to the moniker 'Ruthless.' The UFC veteran has been fighting professionally since 2001 and presently has a 44-match record. Recently, Lawler has not been in the best of form, having lost his last four UFC fights. Now, 'Ruthless' is set to face Nick Diaz in the UFC 266 event on September 25, 2021.
ADVERTISEMENT
Article continues below this ad
Throwback to when Robbie Lawler won the championship
The bout between Lawler and Johny Hendricks at UFC 181 is widely regarded as one of the most contentious fights to date. Robbie Lawler fought for the welterweight belt against former champion Johny 'Bigg Rigg' Hendricks at UFC 181 in Las Vegas. The two welterweights fought for all five rounds. The fight was a proper nail-biter and was extraordinarily close.
ADVERTISEMENT
Article continues below this ad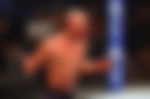 Lawler won the fight via split decision. One of the three judges scored the fight 48-47 in favor of Hendricks. Both other judges scored the fight in favor of Lawler, with scores of 49-46 and 48-47. As a result, 'Ruthless' grabbed the title from Bigg Rigg that night by a razor-thin margin, lifting the championship belt for the very first time in his career.
Robbie Lawler vs Tyron Woodley
'Ruthless' won the UFC championship in December 2014 and defended it twice. Robbie Lawler put on two amazing performances when defending his title against Rory MacDonald at UFC 189 and Carlos Condit at UFC 195. This period is widely considered to be Lawler's prime period in the UFC. Lawler seemed invincible at this point in his career until he ran into 'The Chosen One.'
Robbie subsequently lost his title to Tyron Woodley, following a first-round knockout at UFC 201 in July 2016. Tyron Woodley didn't have to wait too long to clinch the UFC welterweight title. This was Woodley's first shot at the title since he joined the roster.
ADVERTISEMENT
Article continues below this ad
Lawler has been involved in some of the greatest bouts in UFC history, defeating elite fighters inclduing Johny Hendricks, Rory MacDonald, and Carlos Condit. However, Tyron Woodley seemed to have a field day with 'Ruthless', finishing the title bout with a vicious knockout.
Tyron Woodley's words after becoming the champion
Watch This Story
Tyron Woodley took Lawler down with a super quick knockout to clinch the world welterweight champion title. This was Woodley's first title fight in his incredible career.
ADVERTISEMENT
Article continues below this ad
"I've been extremely relaxed. I was nervous that I wasn't nervous. I know what Robbie brought to the table. He's a tough competitor. This is not the first fight I would pick. He is a friend of mine. I admire his career. Hats off to Robbie. I have been envisioning this belt around my waist my entire life, ever since I stepped in the octagon. I had this mission at stake, ", said "The Chosen One", after his insane performance that night.