Kamaru Usman Says Jorge Masvidal's Skill Level is Still Five Years Behind His
Published 01/29/2021, 12:43 AM EST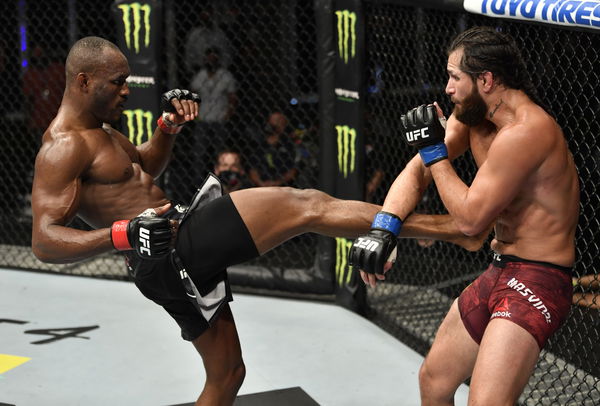 ---
---
UFC welterweight champion Kamaru Usman came out and fired heavy artillery towards his previous opponent, Jorge Masvidal. 'The Nigerian Nightmare' spoke to ESPN's Brett Okamoto and did a deep into Masvidal's skill set as well as the way fans see him. 'Gamebred' has become somewhat of a cult figure in the MMA community, and it's easy to see why.
ADVERTISEMENT
Article continues below this ad
Masvidal shot up to stardom following UFC London where he KO'ed Darren Till viciously and then went on to decapitate Ben Askren. The five-second flying knee KO win over Askren was the icing on the cake that bolstered his popularity. He also went on to capture the 'BMF' belt in a beatdown of Nate Diaz to round out 2019. However, despite his accolades, Usman doesn't truly see what all the fuss is about regarding 'Gamebred'.
ADVERTISEMENT
Article continues below this ad
Kamaru Usman goes after Miami's own Jorge Masvidal
The undisputed 170-pound champion who won a dominant decision over Masvidal in July wasn't too impressed with his in-cage skills. Usman believed that his own skills from five years ago would have been sufficient to defeat Masvidal. Chiefly, it's hard to argue with Kamaru Usman looking at his unblemished UFC run.
ADVERTISEMENT
Article continues below this ad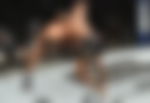 In a chat with ESPN MMA, he said, "With a guy like Masvidal, I knew five years ago that I had the tools to beat a guy like that. That's what I said leading up to the fight. I said 'this guy hasn't changed, nothing's different about this guy'. The only thing that's different is the clout, the hype that people are putting on him even though I don't think he's warranted that. Yeah, he had some good wins, the lucky knee, that Darren Till knockout, yeah I understand it."
"But when people started giving him all this hype…I'm like 'this is the same guy'. I had the skills five years ago to beat this guy which is why I took the fight on 6 days' notice. That was his whole thing. A lot was made that 'Oh, he's taking the fight on six days notice. I'm the champion. I risked everything, and I took the fight on six days' notice. It took me an hour to confirm that fight."
ADVERTISEMENT
Article continues below this ad
There still appears to be some simmering heat between Kamaru Usman and Jorge Masvidal, and both fighters have spoken about a rematch. Apart from being a tough outing, 'Gamebred' also pulls in massive numbers and he remains a huge draw. However, 'The Nigerian Nightmare' will have his sights solely set on Gilbert Burns, who is his opponent for UFC 258 in February.