5 Things You Didn't Know About Polish Light Heavyweight Champion: Jan Blachowicz
Published 03/04/2021, 6:13 AM EST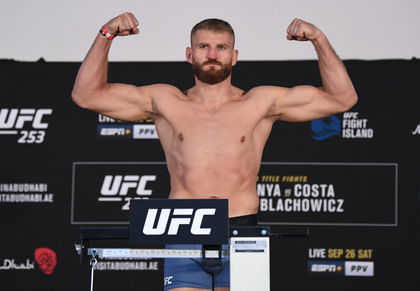 ---
---
UFC light heavyweight champion, Jan Blachowicz, is set to defend his title for the first time against Israel Adesanya at UFC 259. The Polish champion won the vacant title at UFC 253 when he TKOed Dominick Reyes. Blachowicz came in as a heavy underdog and shocked the world on the UFC's return to Yas Fight Island.
ADVERTISEMENT
Article continues below this ad
Blachowicz will be keen to swipe off the shine from Adesanya, who is attempting to become just the fifth double champion. An emphatic win over 'The Last Stylebender' will turn many fans to Blachowicz. Furthermore, there are several interesting aspects of Jan's history that are worth taking a look at before UFC 259.
#1 Blachowicz carries a noose for favorable fortune
ADVERTISEMENT
Article continues below this ad
Perhaps the most bizarre entry on the countdown, Jan Blachowicz carries a piece of rope that came off a noose. The Polish champion was walking his dog in the forest when he came across a rather unfortunate sight. Adhering to Polish superstitions, Jan Blachowicz swiped a piece of the rope that remains with him for good fortune.
Additionally, he's somewhat built a brand around 'The Legendary Polish Power' and his Instagram certainly plays into the trope. However, it's hard to argue with the results given the KO's he accrued as of late at light heavyweight.
#2 Career Resurgence
Unlike several champions like Kamaru Usman and Israel Adesanya, Jan Blachowicz's UFC run hasn't been too smooth. He comes in with a 27-8 record, which is an uncharacteristically large number of losses traditionally seen amongst UFC champs. However, Jan has openly spoken about how adversity at different points has shaped him.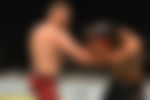 The WCA Fight team standout attributes his resurgence to his coach, whom he rekindled his training with. After starting off his run with a 2-6 record, he returned to train with his old coach Robert Jocz. Following his return to his roots, Blachowicz has looked unstoppable and is riding an 8-1 streak in the company.
#3 Jan Blachowicz is a master of many trades
Jan Blachowicz has proven that he's not just a one-trick pony under the bright lights of the cage. Apart from possessing phenomenal KO power, Blachowicz is a fundamentalist in several striking disciplines. Movies like 'Enter the Dragon' and 'Bloodsport' served as the eye-opener needed to become a diverse practitioner.
He started off in Judo before spreading his wings into Jiu-Jitsu, Boxing, and Muay Thai. Furthermore, what makes Jan dangerous is his ability to mix things together on the fly. A lifetime of dedication to his craft has most certainly allowed for success in the cage.
#4 He has three straight armbar submission wins
While not particularly jaw-dropping on its own, newer fans might not know that Blachowicz is more than a KO machine. Between May-September 2008, a year after his professional debut, Jan Blachowicz came out and scored three straight armbar finishes. Moreover, he scalped wins over impressive names back in the KSW promotion.
Chiefly, what makes this more impressive is that two of his three armbars came on the same night of May 9, 2008. It's highly irregular to see a fighter of his stature pull off such a slick hip thrust-based grappling submission. Standing in at 6'2'' 205 plus pounds, Blachowicz is certainly a rare specialist on the ground as well.
#5 Jan Blachowicz tasted championship gold before
Many fans might not have predicted that Blachowicz would ascend to championship heights in his UFC run. However, there's no getting past the fact that he's been a formidable fighter right from the time he laced on the gloves. The Polish heavy-hitter has been a champion of a major promotion in KSW prior to his UFC career.
ADVERTISEMENT
Article continues below this ad
What's more, he competed in the organization 18 times and ended up losing only twice. He's won the tournament championship on three separate occasions, thus solidifying his status as an all-time great talent.
ADVERTISEMENT
Article continues below this ad