UFC 260 Preliminary Card: Jared Gooden vs Abubakar Nurmagomedov- Prediction and Analysis
Published 03/26/2021, 2:02 PM EDT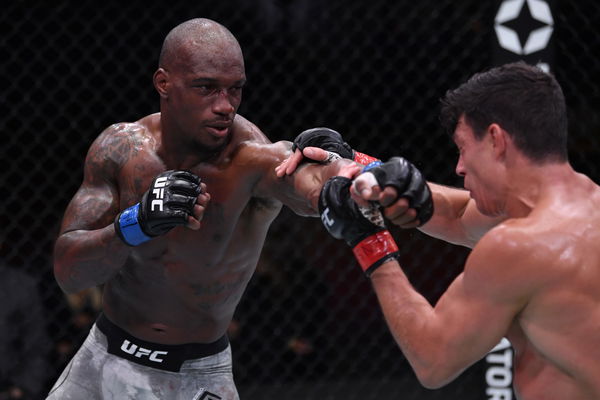 ---
---
The UFC welterweight division is on display in the preliminary card of UFC 260. Jared Gooden and Abubakar Nurmagomedov will face off in a fight that will certainly turn some heads.
ADVERTISEMENT
Article continues below this ad
Abubakar's last name might find you scratching your head, and indeed, he is distantly related to the former UFC Lightweight champion Khabib Nurmagomedov.
Family relations aside, he is a great fighter in his own right. This fight is going to be really interesting to watch for the neutrals.
ADVERTISEMENT
Article continues below this ad
Under normal circumstances, this would be a classic match between two fighters with similar fighting styles. However, Gooden has spiced the match up with some, remarks about Khabib Nurmagomedov and his family.
"Whenever you hear the name Nurmagomedov, or whenever I do, I think of g** porn. You know what I mean? These guys are gonna come out there; they're gonna try to wrestle, they're gonna d*** ride, they're gonna grab a leg and just stay on the whole 3 rounds. The Russians, they all fight the same," he said.
These statements won't do anyone any good in the long run. Gooden might have overstepped, and Abubakar will now have some more motivation to win the fight.
UFC 260: Abubakar Nurmagomedov vs Jared Gooden
While the upper half of the welterweight division is in turmoil after the champion Kamaru Usman has beaten everybody in his path, fights like these just slip under the radar.
Incidentally, Gooden has never been submitted in any of his fights and has an impressive record of 17-5. Out of his 5 losses, 4 have been via decision while he got knocked out by Bruno Oliveira in his previous promotion, Titan FC.
On the other hand, Nurmagomedov has a decent record of 15-3-1. He has mixed it up with 6 knockout victories, 4 wins by submissions, and 5 wins via decisions. His 3 losses comprise 2 submission losses and 1 loss via decision.
Abubakar spoke to RT Sport MMA ahead of this fight. If this interview is anything to go by, Nurmagomedov will be raring to go.
He will be looking for a submission, and he will be very dangerous. If Gooden is not careful, he'll get the first submission loss of his career.
ADVERTISEMENT
Article continues below this ad
Both the fighters are coming off of losses in their last fight. Abubakar lost to David Zawada after a triangle choke, and Gooden lost his last fight against Alan Jouban via a decision. Therefore, they will be looking for the victory after their disappointing debuts in the UFC.
Keep an eye on this one, as there's some bad blood between the two.
Prediction: Abubakar Nurmagomedov to win via a unanimous decision.
ADVERTISEMENT
Article continues below this ad