UFC Fighter Speaks for the First Time on Her Viral Moment With "Gamer" Joe Rogan
Published 05/13/2022, 8:15 AM EDT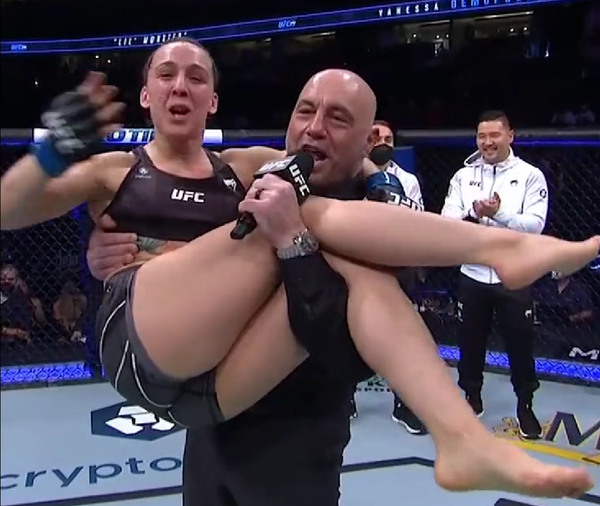 UFC color commentator and podcast host Joe Rogan is a widely popular figure. Many people enjoy Rogan's views on different topics. Fighters too often show appreciation towards Rogan for his contribution to Martial Arts. In a similar way.
ADVERTISEMENT
Article continues below this ad
UFC Fighter Vanessa Demopoulos showed her affection for Rogan when she jumped into his arms to celebrate her victory at UFC 270. Recently, she shed some light on the incident in an interview.
ADVERTISEMENT
Article continues below this ad
While speaking to prominent UFC reporter Helen Yee, Demopoulos said, "It was so awesome…you get your hand raised and then all of a sudden, you got Joe Rogan standing there…it was like a reaction like I couldn't help, you know because I was like excited…I mean, I don't know, it just felt so natural for me like to put my arm around him and like lift my leg and just like started swinging me around. It was perfect." 
She further added. "He follows me on IG now, so that's a plus. Joe Rogan just seems like a really nice, awesome friendly guy and he is just always a gamer. You know, like he is always posting about awesome things in life, so I thought it would be a cool moment to have."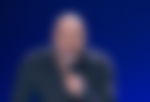 While Rogan continues to enjoy such popularity among fighters, he had once come under the scanner for a post-fight interview he conducted.
Joe Rogan broke his own rule to interview Daniel Cormier
Joe Rogan had once famously said that he won't interview fighters if they suffered knockout losses. However, at UFC 214, Rogan interviewed Daniel Cormier right after Jon Jones knocked him out.
Jon Jones knocked out Daniel Cormier at UFC 214 in their rematch for the Light Heavyweight title. Post-fight in the octagon, Rogan interviewed Cormier. In the interview, 'DC' spoke about the fight and about what the future holds for him.
Rogan received a lot of online trashing for conducting this interview immediately after Cormier's knockout loss. Many people believed it was not right to interview a potentially concussed athlete. People also believed that Cormier was in no state to speak to Rogan.
My apologies to @dc_mma and to all of you upset by my interviewing him after the fight. In all honestly I was kind of in shock.

— Joe Rogan (@joerogan) July 30, 2017
ADVERTISEMENT
Article continues below this ad
However, after the interview, Rogan was quick to issue a heartfelt apology. Taking to his Twitter, Rogan apologized to Cormier and everyone who was upset with Rogan for interviewing the former. He mentioned he realized nothing until the moment he held the mic in front of Cormier. Rogan also admitted that this was 100 percent his fault, and no one forced him to do the interview.
While such incidents happen, Rogan's contribution in helping the UFC grow cannot be denied. The color commentator has been with the company since UFC 12: Judgement Day in 1997. Also, along with being a color commentator, Rogan educates people through his podcast, which is enjoyed by people around the world.
ADVERTISEMENT
Article continues below this ad
Watch This Story: Conor McGregor's Super Human Transformation After the Horrific Injury at UFC 264
Let us know your thoughts about this in the comments down below.