UFC Hall of Famers Georges St-Pierre & Bas Rutten Explain Rules of Wildly Popular Karate Combat
Published 01/24/2023, 1:27 PM EST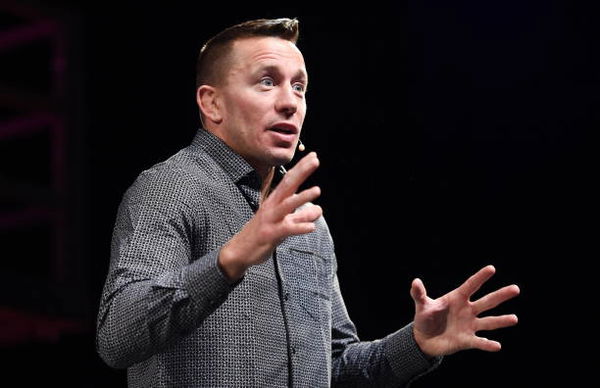 Georges St-Pierre is one of the legends of the MMA world. The former UFC welterweight and middleweight champion is a branded legend of combat sports and is loved by one and all. Even after retiring from the sport, 'Rush' can be seen contributing to the world of MMA in his own manner. These days, St-Pierre is seen in the broadcast team of Karate Combat. Recently, the former UFC welterweight champion was seen with fellow commentator Bas Rutten explaining to the fans the rules of Karate Combat. This video helped combat sports fans become aware of the unique rules followed by this combat sport.
Georges St-Pierre and Bass Rutten help the fans understand Karate Combat
Bass Rutten and Georges St-Pierre explained what the athletes are to follow in a karate fight. In order to not see any cheap shot in Karate Combat again, Bass Rutten said, "A kick in the balls there. That can never be good. Poking an eye can never be good. And especially when he is down, you don't wanna hit him in the back. That's very frowned upon and you might get a red card. For the rest, we have techniques that keep the fighters a little bit further away from each other."
ADVERTISEMENT
Article continues below this ad
Furthermore, the duo explained some techniques that the fighter uses in order to win the match or score points. They explained that a fighter might often use a calf kick to knock an opponent down instead of going for the traditional uppercut. Moreover, some new techniques are also added to the sport as per Rutten. He said that uppercuts were added the last time and time Karate Combat will see knees allowed during the combat.
Moreover, St-Pierre explained some defensive techniques in the sport. Another interesting rule that the duo explained is the takedown rule, wherein a fighter can take the opponent down and can strike him for 5 seconds without submissions. Furthermore, Rutten explained the uses of the karate 'pit' to the viewers and how a fighter can use it in his strategies.
Georges St-Pierre explains the importance of 'mastering' the environment
ADVERTISEMENT
Article continues below this ad
The UFC hall of famers explained the importance of being aware of the boundaries of the karate 'pit'. The duo explained that one needs to be aware of the surroundings and not trip as the opponents will have an advantage.
Georges St-Pierre said, "You have to master your environment. And that's what martial arts is all about. That's what karate is about. That's why there is a pit because nobody is in its comfort zone. It takes everybody out of their comfort zone. And like that we can figure out who is the bets Karate fighter."
ADVERTISEMENT
Article continues below this ad
What do you think about the rules of Karate Combat? Are you going to watch this promotion and its fights?
Watch This Story: Magney breaks Georges St- Pierres Record Polyana Viana pens 115lbs history at UFC Fight Night
Edited By: Debmallya Chakraborty