"UFC Needs to Sign This Guy" – MMA World Shocked as 'Khabig Nurmabigasf**k', Lookalike of Khabib Nurmagomedov Shows Up
Published 06/20/2022, 2:29 PM EDT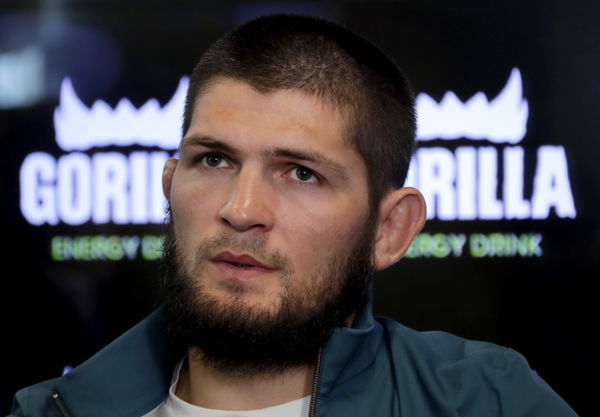 Khabib Nurmagomedov has retired from professional fighting, albeit, his name is always in the talks because of his unmatched dominance in the sport. However, the Dagestani fighter is recently in the fights fans' discussion not for his career but for his looks.
ADVERTISEMENT
Article continues below this ad
Recently, fight fans spotted a Russian wrestler who looks exactly like the former undefeated UFC lightweight champion. Although the wrestler looks similar to 'The Eagle,' his size doesn't match the former UFC champion.
ADVERTISEMENT
Article continues below this ad
Apparently, the Nurmagomedov doppelgänger is a renowned Russian freestyle wrestler, Shamil Alievitch Musaev, who has won in multiple national and international competitions, including the Golden Grand Prix, Ivan Yarygin.
After spotting Nurmagomedov's look-alike, fight fans couldn't control their excitement and, while pointing out the similarities, many shared their thoughts in the comment section.
WATCH THIS STORY: What's Next For Jiri Prochazka After The Last Minute Win Over Glover Teixeira At UFC 275
One user wrote, "UFC needs to sign this guy."
"It's the default Dagestani look. From that preset, other Dagestanis are edited to look slightly different," another user wrote.
A fan wrote, "LHW Khabib isn't real, he can't hurt you."
"He genuinely looks exactly how I would expect Khabibs older brother to look lol," another fan wrote in the comments.
"Must be a small dna pool in dagestan. Man looks exactly like khabib," one fan commented.
Yet another fan wrote, "Does anybody why do all these Dagestanis and Chechens look so extremely masculine, like their face oozes t**toster**e for some reason."
A fan wrote, "This is Khabig."
"Khabib Nurmabigasf**k," another user commented. 
Joe Rogan talks about the most terrifying moment in Khabib Nurmagomedov vs. Conor McGregor fight
One of the most talked-about fights from Nurmagomedov's career is the Conor McGregor fight at UFC 229. A lot of drama unfolded between the two in the lead-up to the fight.
Hence, this fight garnered global attention. While talking about this fight on his podcast, Rogan said, "One of the more interesting moments of the fight was Khabib on top of Conor beating the s**t out of him going. Let's talk now… that's f**king terrifying. He said come on let's talk bam! And he is just slamming him bam! Let's talk now."
ADVERTISEMENT
Article continues below this ad
'The Notorious', living up to his name, talked a lot of trash about his about Nurmagomedov in the press conferences before the fight. However, 'The Eagle' avoided doing the same and claimed to talk inside the cage.
ALSO READ: From Brock Lesnar to Sylvester Stallone: Expected Upcoming Guests on The Joe Rogan Experience Podcast on Spotify
Later, in the fight, the Dagestani dominated the Irish star and also trash-talked him while landing shots from the top. It was a savage move by 'The Eagle', which Rogan also discussed in his podcast.
ADVERTISEMENT
Article continues below this ad
After four rounds of warfare and dominance on the mat, Nurmagomedov finally defeated McGregor via a submission. This win to date remains one of the biggest victories in his career.
What do you think about Nurmagomedov's look alike? What are your thoughts about this fight? Let us know in the comments below.