USADA Suspends Former UFC Fighter Ryan Benoit
Published 11/10/2021, 12:36 PM EST

Follow Us
Many athletes under various sports take the help of prohibited substances. To enhance their performance, they are willing to take such risks. While the use of performance-enhancing substances has been banned across sports, it is still common to hear athletes failing medical tests. 
In the past, viewers have accused many UFC fighters of using prohibited substances. Few fighters have even tested positive for traces of certain substances. The use of banned medications thus remains one of the ugly sides of the sport, and it can leave fans with a bitter feeling.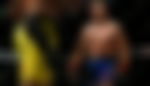 Recently, another athlete has fallen under the USADA radar because for failing the tests and has been suspended.
ADVERTISEMENT
Article continues below this ad
Ryan Benoit fails USADA tests and gets suspended
Retired UFC fighter Ryan Benoit failed the USADA tests. They have suspended him for a period of 10 months for the same. 
In his urine sample, traces of modafinil were found. Modafinil is generally used to help with sleep disorders. However, its use is prohibited during UFC competitions. 
USADA officials said, "Benoit, 32, tested positive for modafinil and its metabolite, modafinil acid, as the result of a urine sample collected on July 31, 2021 at UFC Fight Night 194."
USADA officials stated, "Modafinil is a Non-Specified Substance in the class of Stimulants and is prohibited in-competition."
The suspension period is of two years. However, the retired fighter was eligible for a reduction. Hence, he got suspended for just 10 months. The officials stated, "USADA determined that Benoit was eligible for a reduction to the otherwise applicable two-year period of ineligibility based on the circumstances of the case, including the fact that he established that his use of the prohibited substance occurred out of competition. He also received a reduction for his Full and Complete Cooperation."
ADVERTISEMENT
Article continues below this ad
USADA is not the only organization to punish Benoit. As his fight took place under Nevada State Athletic Commission, the organization has already suspended him for 9 months. 
UFC released Benoit from their contract because of a loss. But most athletic commissions recognize USADA. So, if Benoit wants to compete again, he will have to wait till he completes his suspension term. 
ADVERTISEMENT
Article continues below this ad
What do you think about Ryan Benoit's suspension? Let us know your thoughts in the comments below. 
Watch this story: UFC Fight Night: Max Holloway vs. Yair Rodriguez: Date, Time, Live Stream, and More