VIDEO: Ben Askren Puts His Slow-Twitch Muscle Fibres to Work Ahead of Jake Paul Fight
Published 04/14/2021, 1:04 PM EDT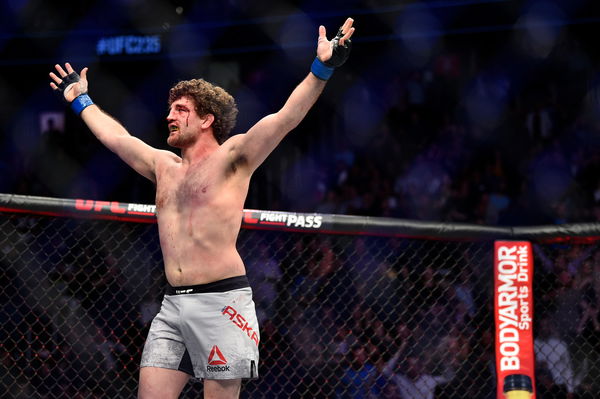 ---
---
Ben Askren is one of the best technical wrestlers of all time. The former Bellator champion has competed in major platforms such as UFC, Bellator, and ONE. 'Funky' is a former Bellator and ONE welterweight champion- he last competed in a professional MMA match back in 2019.
ADVERTISEMENT
Article continues below this ad
Askren is now all set to face Youtuber turned boxer Jake Paul on April 17. Paul is relatively inexperienced compared to Askren, but has a 2-0 professional boxing record.
This fight is one of the most anticipated events of the year, and everyone is excited to see how these two contrasting fighters will do against each other.
ADVERTISEMENT
Article continues below this ad
Has Ben Askren improved his boxing skills?
Ahead of the fight, we can see how much progress Ben Askren has actually made in his boxing. During the live open workouts by Triller Fight Club, we can see 'Funky' in full flow.
 

View this post on Instagram

 
Askren is seen working with his trainer, the former wrestler is working on his punching skills and on keeping his feet moving. Many fans and critics showed different reactions to the video. While some thought Askren was slow and did not show enough power, others believed he has improved his technique and can take on Jake Paul.
What to expect from the match?
Striking hard was never a strength of 'Funky's the former Bellator champ always relied on his wrestling abilities. Askren never went punch-to-punch with an opponent, his strength lies in getting close to an opponent and grappling with him.
Jake Paul, on the other hand, has real knockout power. He hits hard and would look to knock out the former Olympian early in the fight.
ADVERTISEMENT
Article continues below this ad
This fight is not just between two individuals, it is almost a clash of two different approaches. Askren is an out-and-out wrestler. He has been training since he was a kid and has been a world-class wrestler and MMA fighter for years.
Paul is an athlete, but he is not someone like Askren, who has been a part of combat sports all his life.
ADVERTISEMENT
Article continues below this ad
The match was always deemed to be interesting. Seeing the work Askren has put into the fight. It would be great to watch what 'Funky' can do. Whatever the result of the fight, it sure would be great to watch.