VIDEO: Conor McGregor Gets Carried Out of the Building on a Stretcher While Interacting With Fans
Published 07/11/2021, 2:12 AM EDT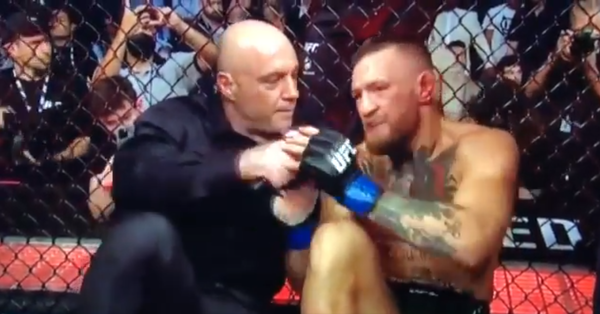 ---
---
The bittersweet rivalry between Conor McGregor and Dustin Poirier ended tonight with McGregor breaking his ankle in a freak accident. The medical team immediately rushed to McGregor's aid and declared an ankle breakage. Hence, Dustin 'The Diamond' Poirier closed the trilogy fight by round 1 TKO because of a doctor stoppage.
ADVERTISEMENT
Article continues below this ad
After the fight, he insisted on letting Poirier know that this fight ended with a doctor-stoppage. The Irishman was later carried out on a stretcher.
ADVERTISEMENT
Article continues below this ad
Conor McGregor was visibly in immense pain because of his freak injury. While McGregor sat cage-side with the medical team, the judges declared Dustin Poirier the winner. In a post-fight interview with Joe Rogan, Dustin Poirier revealed that he felt Conor McGregor's ankle crack when he checked one of his kicks in the initial minutes of the fight. McGregor instantly reacted to this by denying his claims, while being attended to by the medical team.
Watch This Story: Top 5 UFC fighters with the highest significant strike accuracy
Is the end of the line for Conor McGregor?
Conor McGregor clearly did not look pleased with the outcome of the fight. He started the bout by delivering a barrage of leg kicks and even attempted a guillotine choke. However, 'The Diamond' freed himself and later hurt McGregor on the ground by showering down jabs to the face as he gained the top-mount position.
Conor McGregor again attempted a guillotine choke, and Daniel Cormier immediately pointed out that he should not have done that. Unsuccessful in his second attempt to get Poirier under a choke, 'The Diamond' continued to capitalize on his top-mount position. However, as the fighters stood back up, both fighters exchanged jabs. During this exchange, McGregor broke his ankle as he stepped back toward the cage.
Jon Jones, Khabib Nurmagomedov, Ariel Helwani, Tony Ferguson, and more were quick to react to Conor McGregor's second consecutive loss against Dustin Poirier.
Man, I wonder if he will ever fight again after this.. heal up champ, this is terrible

— BONY (@JonnyBones) July 11, 2021
Part 4? Can make a strong case down the line.

— Ariel Helwani (@arielhelwani) July 11, 2021
Good always defeats evil.
Very happy for @DustinPoirier I hope you will get the belt end of the year

— khabib nurmagomedov (@TeamKhabib) July 11, 2021
ADVERTISEMENT
Article continues below this ad
With UFC 264 ending on an unfortunate note, what is next for 'The Notorious' McGregor? In recent interviews, the Irishman has shown interest in fighting Nate Diaz again for the third time. After his recent post-weigh-in clash with Rafael dos Anjos, perhaps that is one fight that could come to fruition as well. Conor McGregor could also choose to switch over to a re-run at boxing.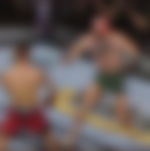 While Conor McGregor still has a few cards left on the table, it might take him a while to recover from this unfortunate second loss. What do you think happens next with 'The Notorious'?
ADVERTISEMENT
Article continues below this ad