VIDEO: Georges St-Pierre's Karate Combat Sees 'Douchebag' Fighter Getting Flatlined in 'Joe Rogan Inspired Arena'; Fans React
Published 12/27/2022, 4:30 PM EST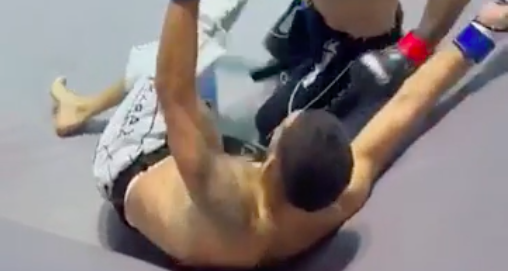 Let's just agree to the fact that combat sports won't be so interesting if there was no trash-talk involved. When fighters train so hard to face an opponent for a fight, emotions run high and bad blood spills. We see fighters across sports and promotions bad-mouthing each other to unsettle their opponents. Sometimes, however, the plot backfires. A similar video has surfaced from the 'pits' of Karate Combat. A full-contact Karate promotion that had UFC two-division champion Georges St-Pierre as a "Season Sensei". The video shows a fighter trash-talking his oriental opponent before being smashed to a pulp during the fight.
The video has been shared on Reddit and fans have shared their views about what they saw. A lot of fans felt the foul-mouthed fighter deserved what he got. Fans also expressed how they felt trash-talking was encouraged to get more engagement from fans. The video shows a European-looking fighter telling an oriental-origin fighter, "I'll break your face, I am at your home, everywhere. You aren't ready." In response, the oriental-origin fighter appears to be saying, "I'll see you Saturday".
ADVERTISEMENT
Article continues below this ad
Fans felt he deserved it
Fans commented on the video and the popular opinion seemed to be that the talker was a deserving candidate for some punishment.
A fan commented, "Boy did he see him on Saturday." 
Another fan said it was a "Joe Rogan inspired arena"
There were fans who felt combat sports won't be as much fun without provocative communication.
A user commented, "And yet with just polite conversation and outward sportsmanship, combat sports would be boring as hell". 
Another user commented, "Reminds me of that one popular mma video where the Caucasian dude covered in tattoos was trying to intimidate the Asian dude and got rekt lol"
Fans were also of the opinion that it wasn't the trash talk that got the fighter smashed, it was because he just wasn't good enough.
The user commented, "Right? And it's not like the guy wouldn't have gotten his a** whupped had he not talked s**t pre-fight."
Another fan commented saying how he had no expectations from the "Douc**bag". He said, "I never expect much from d**he bag wearing a Louis Vuitton hat/shades during the day haha."
Fans, however, looked appreciative of the oriental fighter's attitude for walking his talk. A comment read, "real talk!!! listen up, people! if someone says, "I'll see you Saturday." you better be ready. Because he's gonna see you Saturday, for real."
Georges St-Pierre at Karate Combat
ADVERTISEMENT
Article continues below this ad
French Canadian fighter Georges St-Pierre is a living legend in the world of Combat Sports. He is one of the only four athletes to have achieved a two-division championship in UFC history. The UFC legend was a second-Dan black belt in Kyokushin Karate by the age of 12.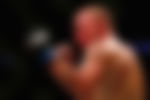 He also remained true to his Karate roots by making his UFC entrances in Karate kimono, black belt and headband. The accomplished fighter had joined hands with Karate Combat as a guide, coach, or mentor for fighters in the 'Pits' for the fighters in the 3rd season of the promotion. What's your take on trash-talking fighters?
ADVERTISEMENT
Article continues below this ad
Watch This Story: Magney breaks Georges St- Pierres Record Polyana Viana pens 115lbs history at UFC Fight Night
Edited By: Vineet Nandwana