VIDEO: Mauricio Shogun Rua Takes an Abrupt Fall Ahead of MMA Retirement
Published 01/18/2023, 7:45 AM EST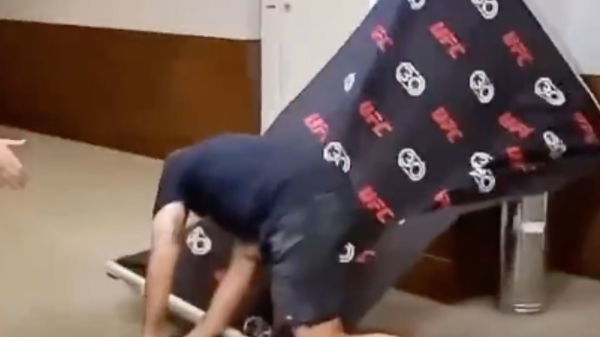 The land of Brazil has given the world of sports some exciting moments. Their culture is such that the athletes consider sports as an important aspect of their lives. Moreover, the athletes religiously follow their sports culture wherever they go. Furthermore, the land is mostly famous for the soccer talent that it generates. However, the nation from South America also gave the world of MMA some of its highly respected legends. This time, the UFC returns to Brazil and some of the native fighters are in action. However, Mauricio "Shogun" Rua will be in the UFC octagon for the final time. Before, the match the UFC legend can be seen taking a "fall" while showcasing his soccer skills.
Mauricio Rua falls after juggling the soccer ball
Mauricio "Shogun" Rua is in Brazil for the last fight of his career. The MMA Legend is excited about his last bout against Ihor Potieria at UFC 283. Moreover, the legend was seen showing his soccer skills in his homeland. Ahead of his match, 'Shogun' had a 'Brazilian soccer fever'.
ADVERTISEMENT
Article continues below this ad
He was showcasing some of his juggling skills with his soccer ball. Although juggling successfully a few times, Rua went for showcasing advanced tricks with the soccer ball. The legend was unsuccessful in his attempts with some tricks. However, that was not the most embarrassing moment. Mauricio Rua tripped on himself and fell on the UFC advertisement panel. Thankfully, the legend did not injure himself during the process.
Maybe the soccer skills should be left to the soccer players. However, another UFC Legend would not agree with the statement.
Khabib Nurmagomedov imitates the 'Brazilian Ronaldo'
Khabib Nurmagomedov is one of the biggest soccer fans in the MMA world. The retired MMA professional had previously imitated one of soccer's iconic players, along with his goal and celebration style.
In a video by ESPN, Nurmagomedov showed his skills in 'the beautiful game.' The UFC legend went toward the goal while asking for the ball. He further deceived the goalkeeper upon receiving the ball and went past him to score a goal. The goal was such that 'El Fenomeno' would be proud.
ADVERTISEMENT
Article continues below this ad
Furthermore, 'The Eagle' did the iconic finger celebration of the iconic Brazilian forward.
ADVERTISEMENT
Article continues below this ad
What do you think about MMA stars playing different sports? Do you think they would have a successful career if they switch to soccer?
Watch This Story – "SAMBO GUYS ARE…" – BJ STAR GORDON RYAN SHOCKINGLY ADMITS KHABIB AND ISLAM MAKHACHEV'S FAMOUS STATEMENT ON JIU-JITSU FOR MMA
Edited By: Vineet Nandwana