VIDEO: Tony Ferguson Continues to Pull Khabib Nurmagomedov's Leg for Ducking Him
Published 09/01/2021, 2:23 PM EDT

Follow Us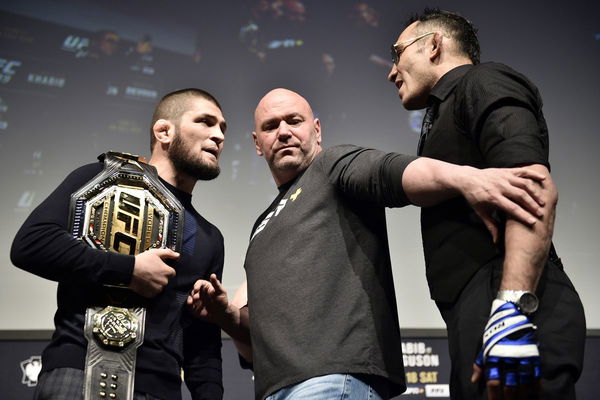 Tony Ferguson continues to troll Khabib on Twitter in an attempt to elicit a response from him. Ferguson shared a video in which Khabib's face is edited on a janitor who is witnessing Tony kick the sand out of a punching bag and demolishing it. He calls the Dagestani a "fathead." He also tells his followers that it appears Khabib has come back to his old ways.
Ferguson is disappointed about not getting to face Khabib and recalls the tiramisu incident. Nurmagomedov was photographed eating tiramisu just before his unsuccessful weight cut. This apparently ended in his hospitalization and the last-minute cancellation of his match.
We can expect Tony to appear in an interview soon based on the hashtag he used in his tweet.
ADVERTISEMENT
Article continues below this ad
"Tuesdayze Are For🍮Tiramisu" Sometimes x 2 💯 If Ya Know… Ya BOGO 🎶 # RunFatheadRun💨 Looks Like Ol' Khabieber Is Back -2- His Old Wayze # TalkIsCheap # ManUpChicken -Champ👨‍🍳 -CSO- 🇺🇸🏆🇲🇽 # InterviewsComingSoon # Stay🎶Tuned Gon'🎣Fishin' 🥇 pic.twitter.com/aaEu7OM3RO

— Tony Ferguson (@TonyFergusonXT) September 1, 2021
Ferguson's earlier tweet on "29-One."
Last month, Tony Ferguson launched a set of "29-One" t-shirts to his retail collection as a dig at arch-rival Khabib Nurmagomedov. With his '29-1′ shirt Ferguson has stated clearly what he believes would have unfolded if he received the chance to battle with Khabib Nurmagomedov in the octagon.
The undefeated Dagestani stated at a recent press conference in Moscow, Russia, that Tony 'El Cucuy' Ferguson should consider retiring as an option since he is growing older. Tony, he believes, no longer has what it takes to make it in the MMA world and cannot continue this way in the long run.
ADVERTISEMENT
Article continues below this ad
Nurmagomedov vs Ferguson: The fight that never happened.
Khabib Nurmagomedov vs. Tony Ferguson will go down in MMA history as one of the greatest fights that never happened. The game was planned several times, but each time it was canceled due to unforeseen circumstances. Injuries and sickness on both sides prevented the event from taking place.
The former UFC lightweight champion believes Ferguson is no longer the same competitor. According to Khabib Nurmagomedov, Tony Ferguson should retire. Formerly one of the division's most dreaded lightweights, "El Cucuy" has experienced three straight crushing defeats after a 12-fight winning streak.
ADVERTISEMENT
Article continues below this ad
Nurmagomedov declared his retirement from mixed martial arts in the cage at UFC 254 in October, a month after turning 32. Tony has been attempting to get him into a fight ever since. Ferguson has seemed to be pretty optimistic about ending the 29-0 streak held by 'The Eagle.'
Watch Story: 5 UFC Fights You Do Not Want To Miss in September 2021