WATCH: Conor McGregor vs Dustin Poirier Stare Down in an Intense Face-Off
Published 01/21/2021, 10:33 PM EST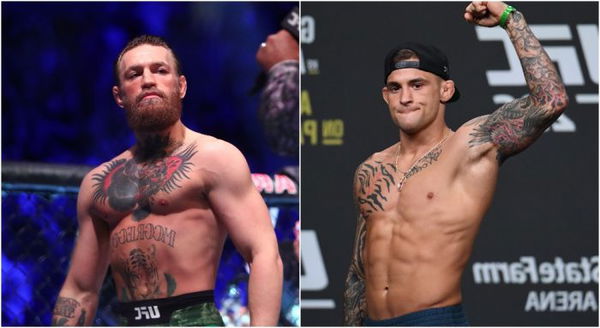 ---
---
Conor McGregor ends his 1-year absence from the UFC Octagon, as he returns to face Dustin Poirier in a lightweight clash this weekend at UFC 257. 'The Notorious' will face 'The Diamond' in a rematch between the fighters. Ahead of the scintillating clash, the two men faced off today after the pre-fight press conference.
ADVERTISEMENT
Article continues below this ad
Despite a much respectful build-up this time than their last contest in 2014, there were signs of fire in both men's eyes. Poirier especially seemed determined to shock the world and make the score even. McGregor, though, is in supremely good shape and is looking to build on his last performance.
ADVERTISEMENT
Article continues below this ad
"You know what's gonna happen," said Poirier. "Yeah, it's on! You know what it is. We both know," McGregor replied. It was much more respectful than UFC 178, but the intensity is still the same between the two world-class fighters.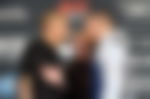 Needless to say, McGregor is a different person now from the one that faced Poirier at UFC 178. He is insanely rich, and probably the biggest name in combat sports and UFC history. He has elevated the sport to an unimaginable level.
Poirier too has realized his share of success. Apart from winning the interim UFC lightweight championship, he has also challenged for the undisputed gold. He has certainly established himself as a household name among the UFC faithful.
Conor McGregor wants to show his best version to the world
ADVERTISEMENT
Article continues below this ad
McGregor believes he is more ready than he has ever been ahead of his clash against Poirier. 'The Diamond' will have to be careful of the first few rounds, as McGregor is the most dangerous at the start of the fight with his insane power, precision, and accuracy.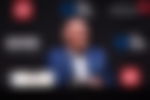 To take the fight to the later rounds is Poirier's best chance of coming out triumphant. But, it's easier said than done. As for McGregor, he already has the recipe to dismantle Poirier.
ADVERTISEMENT
Article continues below this ad
What did you make of the intense face-off between the two fighters?