WATCH: Featherweight Alexander Volkanovski Holds His Own Against 185 Lbs Counterpart Israel Adesanya
Published 05/30/2022, 9:27 AM EDT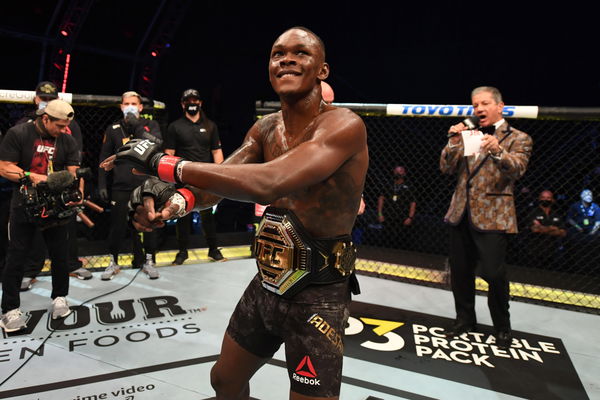 Over the years, fighters from the Asia and Oceania region have made substantial progress in the world of Mixed Martial Arts. Leading the pack of talented fighters who come from those regions are Israel Adesanya and Alexander Volkanovski.
While Adesanya is the current UFC Middleweight Champion of the world, Volkanovski reigns over the Featherweight division as its current champion. Both Adesanya and Volkanovski, besides being champions, are also teammates.
ADVERTISEMENT
Article continues below this ad
In a video uploaded on YouTube, both fighters can be seen sparring each other. While Adesanya has the size and reach advantage, fans can see him making the best use of it. Adesanya starts by landing a front kick while also looking to maintain striking range. It is also worth mentioning that in seconds, Adesanya changes his stance 4 times, all while landing strikes and maintaining range.
On the other hand, Volkanovski is suffering from a size disadvantage. Yet, fans can see the featherweight champion hold his own and even land strikes. Volkanovski starts by landing a leg kick.
The Featherweight champion, who is at a reach disadvantage, tries to get on the inside to land some strikes on Israel Adesanya. Although, while doing so, he gets trapped in a clinch by Adesanya, who only releases him to attempt a head kick later.
It is always interesting to see two champions work together, especially when the two have been dominant for a long time. Not only will these teammates be training together, but fans will also get to see them both defend their titles at UFC 276.
What is next for Alexander Volkanovski and Israel Adesanya?
While teammates train together, help each other and look out for each other, how many get to defend their titles on the same night in the same event? Well, such is the case with Israel Adesanya and Alexander Volkanovski.
The duo is all set to defend their Middleweight title and Featherweight title, respectively at UFC 276. Israel Adesanya's fight with Jared Cannonier will serve as the main event. And Alexander Volkanovski's fight with Max Holloway will serve as the co-main event.
ADVERTISEMENT
Article continues below this ad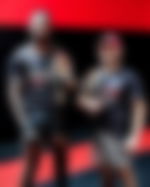 Going into the fight, Adesanya is undefeated in the Middleweight division. The fighter already has 4 successful title defenses since he won the belt and he will look to replicate the same form against Jared Cannonier.
On the other hand, Alex Volkanovski will face Max Holloway in a trilogy. Since his debut in the UFC, Volkanovski has been undefeated in the promotion. In his previous 2 fights against Holloway, Volkanovski won both. However, his victory in the second fight was controversial. This time around, Volkanovski will look to settle business once and for all.
ADVERTISEMENT
Article continues below this ad
Watch This Story: Conor McGregor's Super Human Transformation After the Horrific Injury at UFC 264
Fans and followers of both fighters will wait to see them in action at UFC 276. Comment below and let us know your thoughts about this duo.